How To Maximize Leads & Sales From Search Across All Your Business Locations?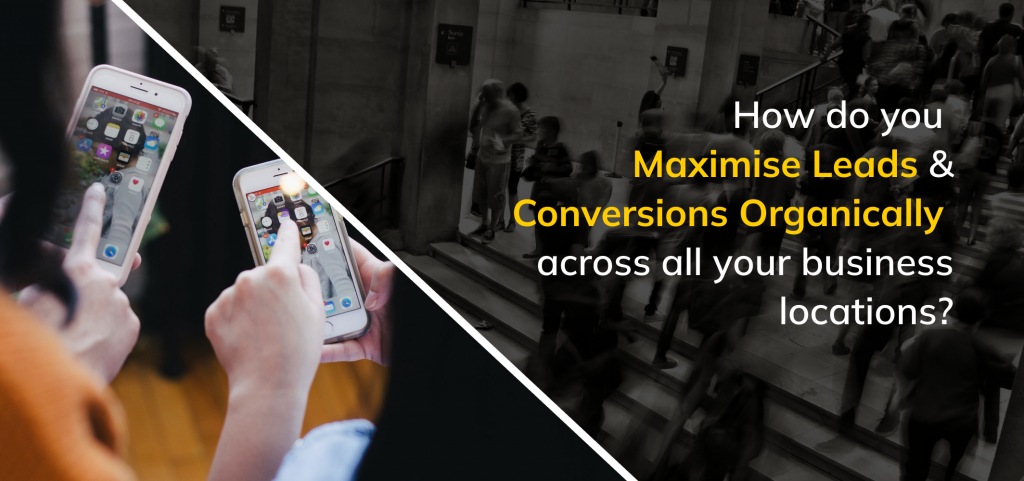 Modern buying journey starts with a mobile search, transforming how consumers discover, engage and buy from offline businesses.
Why is that the case? Nearly 50% of mobile searches have local intent – consumers are looking for location-specific information. Examples include searches like bakery near me, hotels in Delhi, Pan Asian restaurant in Pierre street, etc. In fact, as per research, 97% of smartphone users rely on search to discover businesses in their neighbourhood.
More importantly, consumers doing location-specific mobile search have an immediate need and high-purchase intent. According to a Google research, 76% of such consumers visit a store or take an action (call, message, order or schedule an appointment) within 24-hours
So, if you are a standalone business with a single location or a chain with multiple locations, mobile search drives more ready-to-buy consumers to your storefronts. Hence it is necessary to have a sound inbound marketing strategy to convert these searchers into customers.
Let us understand what happens during this mobile search led offline buying journey:
Discovery happens online – Your location digital profiles on platforms like Google (Google Business Profile) are primary gateways for consumer engagement
Social proof and validation influence consumer choice – 93% consumers look at reviews & ratings to make purchase decisions & 78% consumers say social content (photos/videos/posts etc) drives choice
Speed and convenience maximize conversions – Mobile-first consumers expect speed and convenience at every step. Enabling them to engage with your locations seamlessly improves customer experience and conversions.
Evidently, digital influences every step of this journey. If you are a business with multiple physical locations, the following questions are pertinent for your growth
How to ensure all your business locations are discovered online during search?
How to manage customer reviews and ratings at scale?
How to create and manage local social content?
How to eliminate friction and enable seamless online-to-offline experiences?
The answer is to have and execute a robust location marketing strategy to master each of these aspects and excel in inbound marketing.
Step 1: Optimize your local digital presence across all relevant platforms
Ensuring a consistent and accurate digital presence of all your locations across key search and social platforms such as Google, Facebook, etc. is the first step to maximize online discovery during search.
Why? This is the top-ranking factor with most weight in driving local SEO and 3-pack ranking.
Ensure your name, address, phone number (NAP) and business hours are consistent and accurate across platforms – Google Business Profile, Your Location Page, Facebook Business Page, etc.
Add a brief business description that is authentic and describes your business accurately
Select all relevant categories that are applicable to your business
Add business logo, photos and videos of your locations and offerings
Add products and services that you offer
Claim and verify all your digital profiles
Leverage social posts to share locally relevant content and drive community engagement
Continuously track and monitor your digital profiles across platforms for consistency and accuracy of information
Be responsive to customer inputs – Q&A, Reviews, etc.
Update photos, videos and information regularly
Step 2: Manage Reviews and Ratings at Scale
Customer reviews and ratings not only enhances your credibility among consumers, but it also plays a significant role in boosting online discovery of your locations during mobile search.
Reviews – frequency (how often), velocity (how many) and quality (reviews with text vs just star rating) – are the second most important factor in driving Google 3-pack ranking. In fact research shows that for every 0.1 increase in ratings, conversions increase by 25%. Social proof and validation is a key driver of discovery and choice in today's mobile-first world.
The following best practices will help you ace your online reputation across locations, helping you get more leads and sales:
Collect and track your reviews in real-time
Respond to both positive and negative reviews to build trust and boost engagement
Personalize review responses to stand-out from the crowd
Address customer issues highlighted in negative reviews – this will boost customer experience and drive loyalty
Step 3: Create hyper local content to drive engagement
Posting locally relevant social content is an extremely under-utilized tactic when it comes to location marketing. Multi-location brands should make sure they consistently publish content that is:
Mobile-friendly with localized content
Communicates brand ethos & values
Drives actionability with offers, discounts
It is important to share content to your social channels regularly & consistently
Step 4: Offer seamless online-to-offline experiences to convert high-intent visitors into customers
Ensuring steps 1-3 will make high-intent consumers looking for you online choose your business over competition. However, mobile-first consumers expect speed, convenience and friction-free online-to-offline experiences to close the loop. Reduce drop-offs & boost conversions by providing seamless experiences at every location:
Omnichannel Interaction: Allow consumers to engage and communicate with your storefronts through their preferred channel – WhatsApp, Google Business Messaging, Facebook Messenger, Instagram DMs,SMS and Phone calls.
Self-Service Scheduling: Empower consumers with self-service options across multiple channels for anytime, anywhere scheduling
Easy Payment & Delivery Options: If the customer chooses to book a product or service, they should be able to pay quickly and safely through your payment gateway.
How can Zceppa help you excel in inbound marketing?
Location marketing – managing digital presence, online reputation, social content and seamless online-to-offline experiences – can be too overwhelming for a multi-location business like yours.
Zceppa provides an integrated, easy to use one-stop solution that enables your multi-location business to manage location marketing at scale. Our all-in-one platform automates your location marketing efforts, helping you attract, engage and convert more inbound leads from digital channels into customers.
Statistics Source: SeotribunalChatmeter
Signup for a free trial
Zceppa's products empower your business to win every mobile-first consumer interaction across the buying journey.