Mastering Online Reputation in Today's Healthcare Industry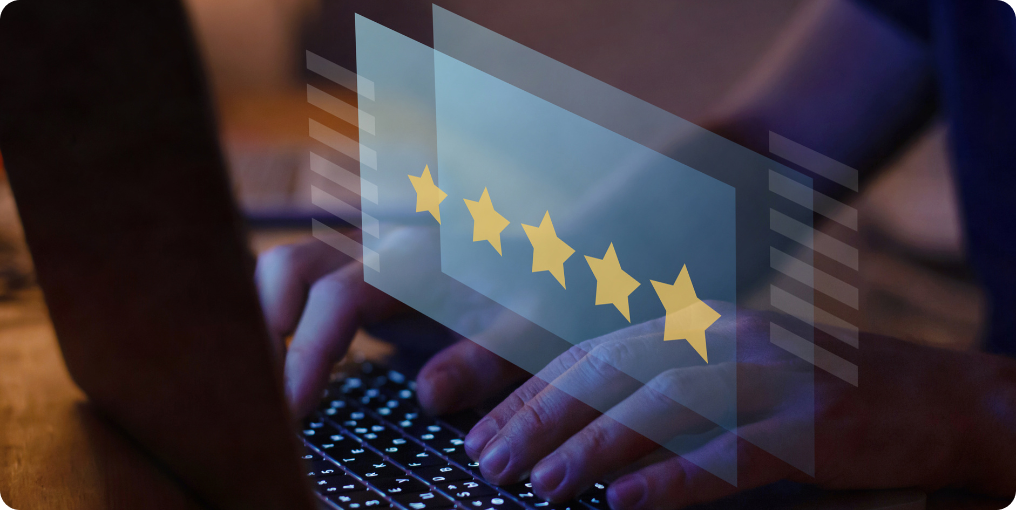 A solid online reputation is more critical than ever in today's rapidly evolving digital landscape and consequently changing consumer behavior. The Healthcare industry is no exception. As patients increasingly turn to the internet to research and select healthcare providers, your online reputation directly impacts patient trust and decision-making. 
Hence, mastering online reputation has become a cornerstone of success for healthcare professionals and institutions. It involves maintaining a positive reputation, monitoring it, and shaping how a healthcare institution or professional is perceived online. 
This blog intends to explore the nitty-gritty of online reputation management (ORM) while shedding light on using the right online reputation management tools to build and maintain a strong reputation.
How ORM Shapes Healthcare for Your Ideal Audience
65% of the revenue in hospitals comes from in-patient medical procedures and healthcare services like surgeries and childbirth. Since these procedures have low repeat rates and low LTV (lifetime value), it is crucial to attract new patients for business growth. Hence, healthcare practices should ensure the right message is communicated to the right audience.
This is when ORM comes into play. It enhances brand visibility, search engine rankings, and patient engagement. Ultimately, it helps you focus your marketing and outreach efforts more effectively to reach your ideal customers.
Let's look at how Online Reputation Management influences patient trust and choice of healthcare providers.
Trust and Credibility
A healthcare provider's online reputation directly affects patient trust. Positive reviews, ratings, and a robust online presence also instill confidence in prospective patients. Conversely, negative reviews or a lack of online presence can deter patients from seeking care. Social sharing and relevance of the content that they post are key enhancers.
Discoverability and Ranking
Patients often use search engines to find healthcare services, with specific keywords related to their medical needs, such as "orthopedic doctor in Bangalore" or "best orthopedic surgeon for knee replacement." ORM plays a critical role in ensuring that the provider's website, reviews, and social profiles rank high in search results for these procedure-specific keywords. Higher visibility increases the chances of being discovered by patients actively seeking relevant care.
Word-of-Mouth Impact
Digital marketing, coupled with a strong ORM, has totally transformed the way patients find and choose healthcare providers. Positive reviews act as digital word-of-mouth endorsements, with potential patients trusting the experiences and opinions of others. 
Competition and Choice
Healthcare is a highly competitive domain. Today, patients have choice when it comes to selecting a healthcare provider. An impressive online reputation sets providers apart, making them a more attractive choice for patients seeking care. 
In essence, a positive online reputation can attract more patients, while positive patient experiences can sustain and strengthen that reputation. Let's delve deeper into this synergy.
Navigating ORM and Customer Experience in Healthcare
A robust online presence is indeed a deciding factor in a patient's selection process. Positive online reviews, informative content, and timely responses to patient inquiries build trust and can lead to a positive first impression. This positive perception influences a patient's decision to seek care from that provider.
Conversely, a strong patient experience – encompassing quality care, effective communication, robust & efficient processes along with empathy – contributes to favorable online reviews and referrals. Satisfied patients are more likely to leave positive feedback, enhancing a provider's online reputation.
On the other hand, when patients or their loved ones experience dissatisfaction with healthcare, their grievances can quickly become viral in the age of social media. Negative stories and reviews spread rapidly which might harm the healthcare institutions' reputation, reduce patient engagement and lead to legal issues.
It underscores the importance for healthcare organizations to prioritize patient satisfaction and address concerns promptly to mitigate the broader impact of negative experiences in the digital age.
Thus, Online Reputation Management (ORM) and patient experience are deeply intertwined in healthcare. Excellently managed digital reputations enhance patient experiences and vice versa; standout patient experiences further solidify digital credibility.
Given our digital-centric era, the harmonious relationship between ORM and patient experience is paramount for a healthcare provider's success to gain new patients. As such, healthcare providers must invest in ORM and unleash the power of reviews to secure their standing in a competitive healthcare landscape.
The Power of Online Reviews
75% of people turn to the internet first in their search for health information.
70% read patient reviews when searching for a healthcare location or provider.
80% of respondents expect five or more reviews before they deem a provider trustworthy.
These consumer statistics show the power of reviews in the healthcare industry, wielding considerable influence over patient choices, discovery, and conversion.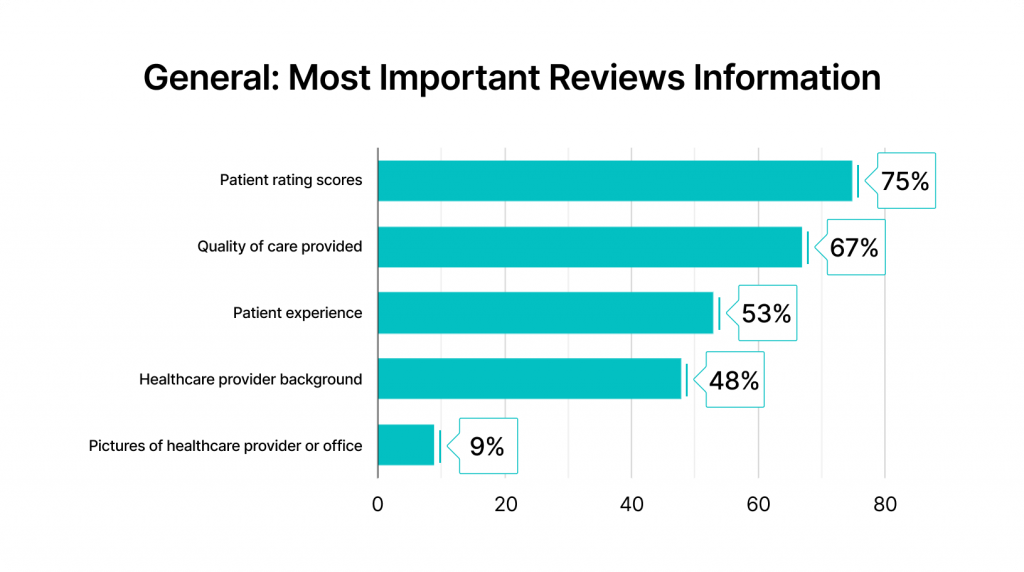 Online reviews offer insights into the quality of care, the patient experience, and the reputation of healthcare professionals and facilities. Patients rely on these reviews to make informed choices about their healthcare providers. Moreover, both, good reviews and good quantity of reviews help increase the rating. Further even a 0.1 increase in rating directly positively impacts revenues per industry studies.
Hence, effective management of reviews on external platforms ensures that healthcare providers can attract and retain patients while preserving a positive online reputation.
HOW?
Online Reputation Management Tools
Here's how ORM tools facilitate the process:
Review Solicitation & Acquisition: 
People tend to leave reviews on public platforms when requested. As such, healthcare providers or staff should personally request reviews from patients during or after their visit. This personalized approach can yield valuable feedback.
In furtherance, review solicitation tools assist in making review requests both purposeful and seamless. They incorporate strategies to encourage patients to share their experiences online, through bulk messages via email or personalized texts.
Studies suggest that bulk messages typically result in 1-2% conversion rate. Tools can also aid in requesting reviews "in-moment", immediately after the patient's interaction or visit. Converting a patient's positive experience into reviews when it's fresh in their mind often results in a 25-30% conversion. 
Review Management: 
ORM tools streamline the process of monitoring and managing reviews. They provide a centralized platform for tracking feedback from various external sources, making it easier to respond to concerns and engage with patients.
Analytics and Insights: 
These tools offer analytics that enable healthcare providers to gain a deeper understanding of trends in patient feedback, allowing them to make data-driven improvements to their services.
Response and Engagement: 
ORM tools facilitate timely responses to reviews, whether they are positive or negative. Acknowledging patient concerns and demonstrating a commitment to patient satisfaction can be a powerful tool in maintaining a positive online reputation.
Brand Monitoring
By tracking mentions on social media, analyzing sentiment, monitoring reviews, and providing real-time alerts, these tools regularly monitor your digital image. They also assist in competitor analysis, crisis detection, and content tracking, ensuring a positive brand image. 
Additionally, by managing online listings, identifying industry influencers, streamlining responses to comments and providing customisable reporting, ORM tools facilitate brand monitoring.
Social Listening
This aspect of ORM tools specifically deals with actively monitoring and analyzing social media platforms and online discussions to track brand mentions, customer feedback, and industry trends. It involves listening to what people are saying about your brand, competitors, and relevant topics. This information can be used to respond to customer feedback, manage crises, and adjust marketing strategies, ultimately enhancing a brand's online reputation and customer relationships.
Continuous Review Management > Review Acquisition 
There's no denying that positive online reviews draw in new patients and bolster loyalty, but it is equally important to continuously manage and respond to patient reviews, both positive and negative.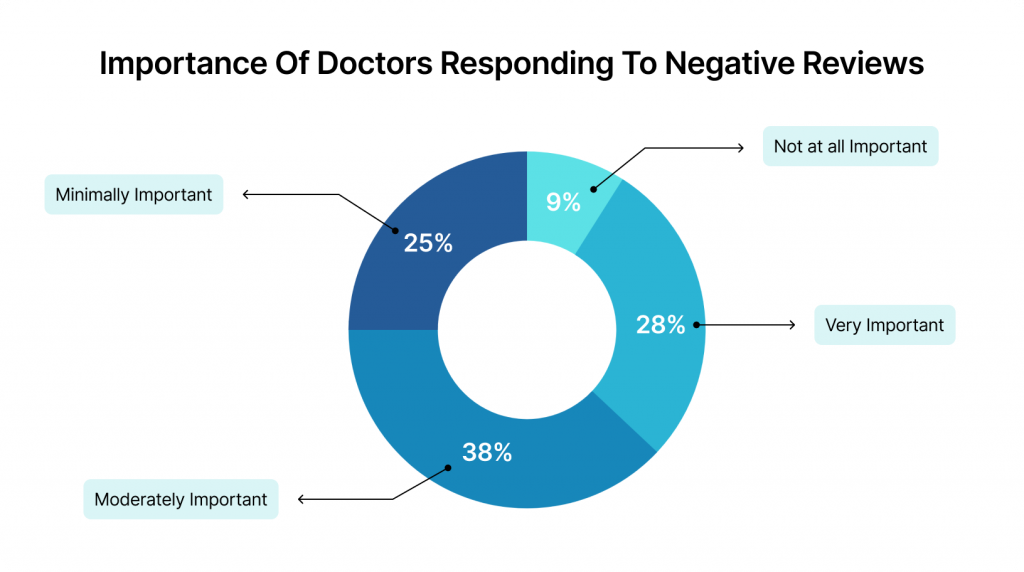 64% of consumers say it is important for healthcare providers to respond publicly to patient reviews.
Here's why- 
Patient Trust: 
Timely and considerate responses to reviews, whether positive or negative, build trust and demonstrate a commitment to patient satisfaction.
Quality Improvement: 
Patient feedback, especially constructive criticism, provides invaluable insights for healthcare providers to make improvements in their services, ultimately enhancing patient care.
Online Reputation:
Online reviews significantly impact the reputation of healthcare providers. Positive reviews can attract more patients, while unaddressed negative feedback can tarnish a reputation.
Patient Engagement:
Responding to reviews actively engages patients, making them feel heard and valued, which can lead to increased loyalty and referrals.
Strategies for Leveraging ORM Tools for Continuous Feedback Management
Real-Time Monitoring:
Use ORM tools to monitor reviews in real-time across various platforms, allowing you to respond to patient feedback promptly.
Automated Alerts:
Set up automated alerts to be notified of new reviews, ensuring that no feedback goes unnoticed.
Sentiment Analysis:
Leverage ORM tools with sentiment analysis to gauge the tone of reviews, making it easier to prioritize responses to those that require immediate attention.
Standardized Responses:
Develop standardized, empathetic responses for common review themes to streamline the process while personalizing where necessary. Additionally, the artificial intelligence in review management tools can help you to craft personalized responses- ones that are tailored to the reviews.
Engage in Constructive Dialogue:
Encourage two-way communication by asking follow-up questions or offering solutions to address patient concerns, both in public responses and private messages.
Data Analysis:
Utilize analytics provided by ORM tools to track trends in patient feedback, allowing you to identify improvement areas and measure changes' impact over time.
Platforms for Managing Online Reputation
Aggregate Platforms
Aggregate platforms play a significant role in collecting reviews and influencing online reputation. These platforms, that are relevant to your country & regions such as Practo, HelpingDoc, and Healthyzer, serve as hubs for patients to share their experiences with healthcare providers and facilities. 
Aggregate platforms encourage patients to leave reviews after their appointments or treatments. This is often done through email reminders or prompts within the platform itself. Additionally, they may incentivize reviews by offering rewards or recognition to active reviewers.
These platforms also verify patient identities, flag suspicious content, and provide guidelines for constructive feedback. This helps maintain the integrity of the reviews and builds trust among users.
The impact of these platforms on healthcare reputation is profound. In fact, 94% of healthcare patients use online reviews to evaluate providers.
Google Business Listings
86% of consumers search for local information on Google Business Profile (formerly known as Google My Business).
5% of all Google searches are health-related.
The compelling statistics testify to Google Business Profile's importance in shaping patient behavior.
Google Business Profile (GBP) listings are among the first things patients see when searching for healthcare services. This visibility makes GBP an invaluable tool for creating a positive first impression.The platform actively encourages patients to leave reviews directly on healthcare providers' Google Business Listing pages, with star ratings prominently displayed. 
Did you know that Google also provides separate doctor listings or practitioner listings for doctors practicing either individually or within a hospital? 
The business listing platform is also integral to local search engine optimization. Optimized listings increase the chances of appearing in local search results, which are vital for healthcare providers to reach patients nearby.
Social Media Platforms
From patient engagement to content promotion, social media platforms are crucial in Online Reputation Management for the healthcare sector. An active and consistent social media presence helps increase brand visibility and attract potential patients searching for healthcare services.
Healthcare providers can use social media to engage with patients, answer questions, and provide valuable information, fostering positive relationships and improving patient satisfaction. 
They can also share informative and educational content on social media, establishing themselves as experts in their field and showcasing a commitment to patient care.
Positive patient testimonials and success stories shared on social media platforms boost a healthcare provider's reputation and credibility. It helps in humanizing the practice and building trust.
How Can You Manage Online Reputation Effectively?
Before discussing those bulletproof strategies that work wonders in managing online reputation effectively, let's look at how ORM is integrated into the patient journey right from the beginning.
How ORM impacts Consumer Journey
Online Reputation Management (ORM) is vital throughout the consumer journey in healthcare. In the initial stages, patients often search for healthcare providers online. A strong online reputation, positive reviews, and informative content can influence their choice. 
During the decision-making process, ORM helps in building trust and credibility. When a patient receives care, ORM can help address concerns, maintain satisfaction, and encourage loyal follow-up. Even post-treatment, patients may leave feedback, impacting future patient choices. 
ORM plays a continuous role in shaping patient perceptions, fostering trust, and influencing healthcare decisions from initial research to ongoing care experiences and beyond.
Tips for Healthcare Providers To Manage Their Online Reputation
Online Review Management
Encourage satisfied patients to leave positive reviews.
Respond promptly and professionally to both positive and negative reviews. Develop a plan for addressing negative situations swiftly and transparently.
Use online review management tools and platforms like Google Business Profile, Healthgrades, and Practo to monitor and manage reviews.
Proactive Content Marketing
Share informative and educational content on your website and social media.
Showcase your expertise and commitment to patient care.
Website Optimization
Ensure your website is user-friendly, mobile-responsive, and has accurate information.
Implement SEO strategies to improve online visibility.
Social Media Engagement
Actively engage with patients on social media. Regularly put up posts and stories with polls, questions, and other engagement elements.
Respond to questions and concerns, and foster a positive online community.
Use Online Reputation Management Tools
Utilize tools like Zceppa, Reputation.com, or ReviewTrackers to monitor and manage online reputation.
ORM tools will also let you analyze ORM data and gather patient feedback on a regular basis to make informed adjustments to your strategy.
How Can Multi-Location and Multispecialty Hospitals Manage their Online Reputation?
Multi-location healthcare facilities with 50 or more doctors face unique challenges in managing their online reputation due to the vast scale and diversity of their operations. As such, dedicated 
Online Reputation Management (ORM) tools are essential for several reasons:
Centralized Management
ORM tools allow centralized control and oversight of the online presence for multiple locations. This streamlines the process of monitoring reviews, responding to patient feedback, and maintaining consistent branding across all branches.
Scalability
Large healthcare facilities typically have high patient interactions and online reviews. ORM tools can efficiently handle this scale, automating review aggregation and reporting processes.
Data Analysis
ORM tools provide advanced analytics, helping healthcare facilities gain insights into patient sentiment, track trends, and adapt strategies effectively.
Efficiency
These tools save time by automating repetitive tasks, allowing staff to focus on more critical aspects of patient care and reputation management.
How Zceppa Can Assist with ORM
Zceppa is a unified SaaS review management and all-in-one marketing solution and patient experience platform to maximize your offline sales from digital channels across all your locations.
From attracting new customers, driving customer engagement, and increasing customer conversations, Zceppa equips healthcare organizations with AI technology to efficiently handle location-based marketing and drive expansion.
If we talk figures, Zceppa has delivered impressive growth to healthcare customers, with a 225% increase in reviews, a 57% increase in month-on-month leads, and 5X more conversions, delivering 200x ROI.
Here Are a Few Features That Zceppa Offers
Automated Review Collection
Automatically collect more reviews on Google, Facebook, and other third-party healthcare review sites by leveraging text-based invites. The added advantage is that you can send review requests in the customer's choice of language. 
Automated Listings Management
Zceppa synchronizes and updates listing information across multiple platforms. It also sends prompt alerts and notifications to ensure you are on top of your listings 24/7. You can proactively execute essential tasks like responding to Q&As, updating photos, testimonials, opening hours, and services using Zceppa's unified dashboard.
Multi-Platform Integration & Review Management
Zceppa provides multi-platform support with end-to-end integrations with Google, Facebook, Instagram, and other industry-specific sites. The integration helps to monitor and respond to reviews received on various platforms across different locations from a single dashboard. 
Zceppa sends real-time notifications each time a review is received, ensuring that you can send a reply on time. Use preset templates and send personalized responses at large easily and quickly.
Review Performance Matrix
With actionable insights on reviews and customer opinions, Zceppa will help you identify the areas that need improvement and make data-driven decisions to improve customer experience and ROI. 
Review Marketing
With digitalization going strong, your social media marketing should be unique. Zceppa has easy-to-use templates that will lend you a competitive advantage by letting you turn your best reviews into posts and stories.
Performance Analysis
Using the Zceppa dashboard, you can read into all your reviews, understand patients' sentiments, know what's working well and what's not, and make actionable decisions based on this detailed insight. It will help you improve patient satisfaction and, eventually, your ROI.
Final Takeaway 
The online reputation of a healthcare institution profoundly influences a patient's decision-making. Additionally, positive online reviews and ratings build credibility, ensuring a competitive edge and attracting a wider patient base.
Thus, healthcare practitioners and hospitals must capitalize on it by engaging in effective online reputation management. To healthcare providers, investing in Zceppa's ORM services is a strategic decision. By doing so, they proactively shape a positive online image, resulting in increased patient engagement, new patient acquisition, and a solid reputation within the healthcare community. 
Zceppa's expertise can help healthcare professionals navigate the digital landscape, ensuring they are well-regarded and trusted in an increasingly online-centric world, ultimately fostering long-term patient relationships.
Ready to transform your online reputation in the healthcare sector?
Start your Free Trial with Zceppa today!
Signup for a free trial
Zceppa's products empower your business to win every mobile-first consumer interaction across the buying journey.