Power of Reviews for Discovery & Conversion in Healthcare Businesses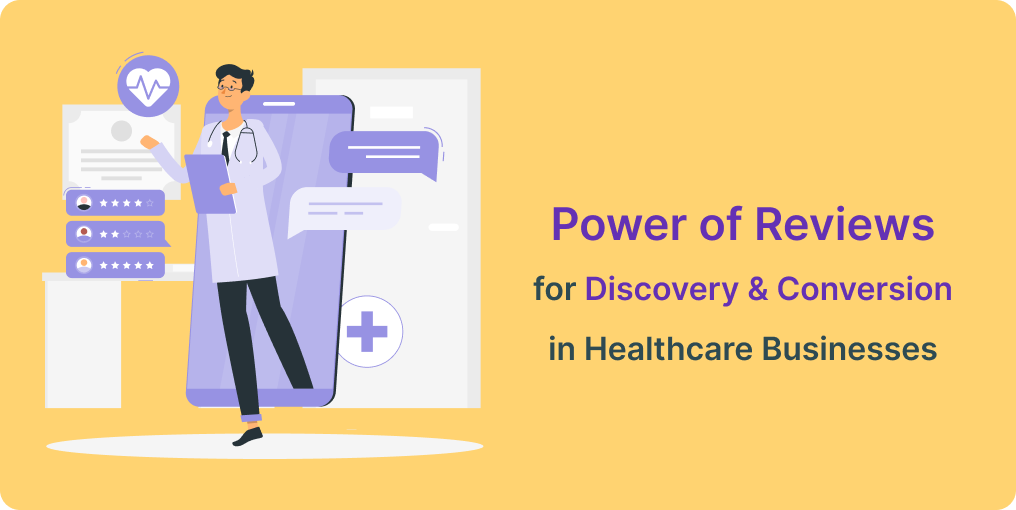 The healthcare industry is increasingly utilizing reviews to make data-driven decisions, a practice that was once largely confined to shopping aggregators. This shift reflects increased consumer engagement in the quality and reliability of health services, making it easier for people to select healthcare providers based on feedback from peers.
 "A staggering 98% of people look to online reviews when selecting a local business, particularly in the Healthcare industry, where consumers see business reviews as the most important."
With a top-notch practice, credentials from prestigious healthcare institutions, and extensive experience in the field, doctors and medical practitioners can still face an uphill battle when it comes to gaining new patients. However, reviews play an crucial role as they provide social proof of your competence, allowing you to establish trust with potential customers before even meeting them!
How Often Do Patients Read Online Reviews When Looking for Local Businesses?
Therefore, it becomes crucial that you document your existing patients' feedback for potential ones to see.
Find out how you can pro-actively manage your institution's reputation not just to build a great brand but to drive higher footfalls.
Why Are Patient Reviews Important for Healthcare Providers?
Healthcare is an expansive domain where technological advancement and approach come at such profuse velocity and volume that some level of patient skepticism is expected. Patients need to see that your facility and care delivery models meet their expectations. They need to feel safe, and in situations like this, decision-making increasingly depends on data. Reviews help lessen the fear and hence influence your prospective patient's opinion about visiting your facility.
Secondly, patients are seeking healthcare services closer to home. This means that finding suitable alternatives within a physical radius is critical for their care. Hence the intent to opt for healthcare services is increasingly becoming hyperlocal in nature. So when people search online for healthcare providers using the "near me" keyword queries, search engines promote pages having the most credible profile and geo-centric reviews.
Google, in particular, is the most popular and used platform to check reviews of a business. In fact, 87% of consumers used Google to evaluate local businesses in 2022.
Both these reasons make it mandatory to have reviews on your profile to improve your local ranking and be visible to patients and caregivers searching for your healthcare brand or specific medical services.
Number of Reviews
Recent reviews can dramatically increase the trustworthiness of a healthcare provider. In fact, 80% of people indicate they only feel comfortable selecting a service with five or more online evaluations.
What's even more staggering is that 50% read as many as 10 reviews, and over 20 percent are going through at least two dozen assessments! This reveals the importance of an effective reputation management program for your facility to ensure you maintain positive credibility among potential clients.
Ratings
Healthcare providers' star ratings are an integral part of the patient decision-making process. In fact, 72% percent will only choose a doctor if they have 4 stars or higher. Reviews and ratings can help determine which provider offers the quality care patients seek and need.
Responsiveness
65% of people believe that it is essential for healthcare providers to respond publicly to patient reviews.
Going beyond simply thanking those who leave positive reviews, it's vital to respond thoughtfully and personally to any negative ones – no matter how difficult the situation may feel. Doing so helps build brand affinity and can pave the way for future conversions by resolving patients' issues quickly and effectively.
It's time to navigate the big question – how do you ensure reviews and reputation management are managed effectively? Let's explore viable solutions that will suit your needs.
How to Get More Healthcare Reviews
You cannot control your patients' reviews, but you can control whether you ask them to leave a review.
 " Did You Know?
80% of people were asked by local businesses to leave a review in 2022. Around 65% of people posted reviews in response to requests from these businesses." 
Usually, dissatisfaction automatically prompts a review. On the contrary, your first-time or regular patients who are happy and satisfied with your service might express their gratitude in person or over a call. This lack of representation can result in skewed reviews that don't reflect the actual image and reputation your practice strives for on both offline and digital levels.
Gathering reviews from satisfied patients can significantly enhance your reputation online. Requesting these via a direct link to review sites such as Google or Facebook simplifies the process, making it more likely for customers to leave feedback.
Pro-Tip: To add an extra layer of personalization and make an even bigger impact, why not encourage those who provide written reviews also to record video messages detailing their experience?
How to Manage Your Online Reputation
Once you have received reviews, responding promptly is key! Not only does it show that your practice values patient feedback and makes for a better online presence – it might also provide an opportunity to resolve negative experiences.
For instance, take caution when replying so as not to breach HIPPA compliance regulations or the patient's identity; maintain respect by providing informative responses such as "we work hard at delivering high-quality joint replacement services" instead of addressing them directly with their medical history. Additionally, keep in mind that Google does not permit the disclosure of reviewers' personal information.
Here are a few other tips for managing your online reputation.
1) Display Reviews as Testimonials
Reviews on Google?
Yes.
But, managing your online presence is a vast domain that includes your website and social media platforms like Facebook, LinkedIn, and Twitter.
We've already established that it is vital to respond to negative reviews, but positive reviews could be your biggest strength in ensuring retention, referrals, and new patients. All you need to do is highlight them by-
Using your best reviews and 5-star ratings on social media platforms;
Add these star reviews to your website by placing a review widget on the homepage.
Here's a glimpse of the review testimonial widget on Zceppa's healthcare solutions.
2) Use AI-enabled Pattern Analysis
AI-powered pattern analysis is a technique where software crawls through your online patient reviews and looks for concerns and sentiments indicative of more significant problems affecting patient satisfaction. 
The unfailing high level of precision will help you understand the exact root cause of patient dissatisfaction while cutting out the noise. This will ultimately let you derive a remediation action plan and improve your healthcare delivery module.
Taking away much manual labor, this machine learning algorithm reveals unseen issues quickly while cutting out superfluous data points, giving you real answers with lasting improvement impacts for enhanced satisfaction across all areas.
3) Train Your Team for Better Healthcare Services
Professional medical services don't just encompass quality treatments – they also involve providing friendly and empathetic service. The right patient etiquette can go a long way in establishing your practice's reputation, ensuring that the only reviews being written are good ones!
Investing in training to ensure your employees understand how best to interact with patients offline and online will help them feel supported throughout their experience and leave you feeling secure about the positive feedback from happy customers.
4) Use a Reputation Management Platform
In the healthcare industry, where time is a valuable commodity and attention to detail is paramount, reputation management solutions can help you efficiently build your online presence.
From sending review requests to patients and monitoring feedback, taking advantage of these platforms will provide invaluable assistance in responding quickly and generating positive reviews – essential for optimizing any healthcare business' digital impression.
How Zceppa Can Help With Healthcare Reviews
Zceppa is a unified SaaS review management platform and a one-stop solution that collects and manages hundreds and thousands of reviews for your business, even if multi-location is a factor to be weighed in.
By using Zceppa, you'll be able to perform the following activities from a single dashboard-
1) Collect Reviews from Various Channels
Zceppa lets you leverage text-based invites to be sent to your patients and achieve more reviews on Google, Facebook, and other third-party healthcare sites. The automation feature simplifies collecting reviews after a service appointment – meaning better rankings for you. And with our proprietary review optimization processes, say goodbye to low open/conversion rates!
2) Manage Reviews at Scale
Streamline your review process with Zceppa Reviews. Our automated platform offers a single interface for real-time monitoring, personalized messaging, and immediate alerts. Choose from ready templates or customize your responses to maintain consistency across all locations.
Our platform also supports collection and response across Google, Facebook, and other industry-specific sites in the customer's language of choice. Whether you're a small diagnostic centre or a multi-specialty hospital, count on Zceppa Reviews to simplify your reputation management.
3) Analyze the Performance
Zceppa's dashboard provides invaluable insight into patient reviews, allowing you to understand their sentiment and discern what areas of your business are performing well or need improvement. This ultimately leads to more satisfied patients – and higher ROI!
Lastly, don't just take our word for it. Here's a glimpse of how we helped a leading diagnostic chain with 90+ centers to manage reviews across multi-locations at scale.
Signup for a free trial
Zceppa's products empower your business to win every mobile-first consumer interaction across the buying journey.