Why is Hyperlocal Search Important for Healthcare Providers?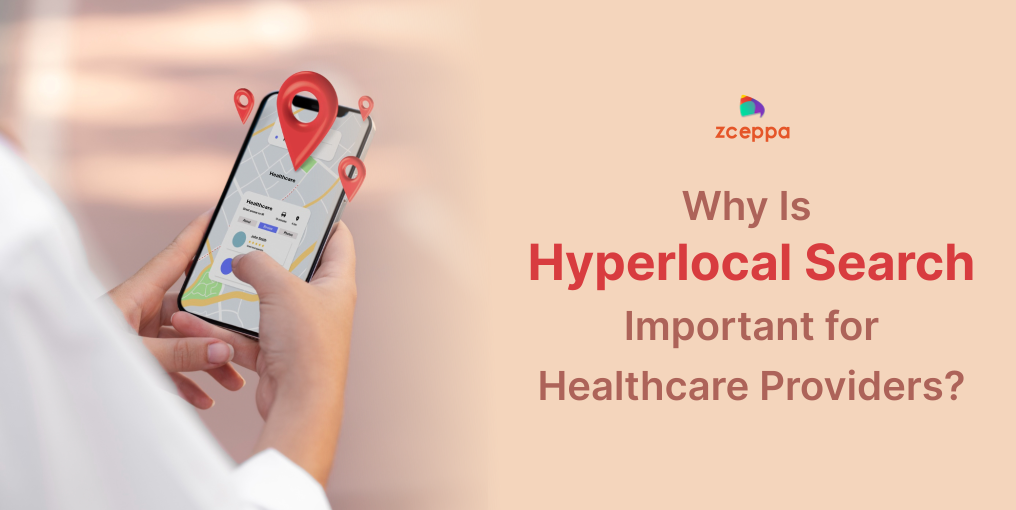 In today's digital world, patients & caregivers no longer rely solely on word-of-mouth recommendations and advertisements when searching for the best healthcare providers. With the advent of technology, patients can now easily find the best dentists, gynecologists, or other healthcare providers in their area using a simple 'near me' search query on Google.
Sounds surprising? Look at these statistics:
Consumers seek health information in 1 out of every 20 Google searches.
Moreover, two-thirds of such searches are location specific – consumers are looking for health information in a targeted geographic area ("near me", "near town/city/locality", "….in town/city/locality).
" Furthermore, 76% of patients doing hyperlocal searches take action within 24 hours – call the hospital, book an appointment, or walk in. "
With these local search statistics in mind, as a hospital or healthcare provider, if you're not harnessing the immense power of hyperlocal search depicted above, you're missing out on a sea of high-intent customers actively seeking your services.
Hyperlocal Search targets a highly specific location, making local SEO especially relevant and critical for healthcare providers to maximize walk-ins and conversions.
In this blog, we will explore the importance of hyperlocal search for healthcare providers and provide tips on utilizing it to its fullest potential. Let's get started!
What is Hyperlocal Search?
To understand what hyperlocal search is, we need to lay some groundwork.
Let's first understand what SEO is.
Search engine optimization (SEO) helps you increase your visibility in Google search results. Basically, you optimize your website or Google Business Listings for specific keywords, and when a user searches for those keywords on Google, your website pops up.
Let's say you optimized your website for "best hospitals" and someone searches for the same. Google will show them websites ranking for those keywords, including yours.
Here's a screenshot for a better understanding:
These search results can be shown to anyone searching for specific keywords, even if they're from a different city, state, or country altogether. Because of this, SEO is quite broad in terms of targeting.
Now let's narrow the search targeting that would help us understand Local SEO and Hyperlocal Search.
Local SEO: Local SEO helps you improve the visibility of your business for a broad geographic location such as a city or region. A user searching for "hospitals in bangalore" is an example of a local search. 
Hyperlocal Search: Local SEO helps win Hyperlocal Search – a type of online search that focuses on finding information about products or services within a specific geographic area or a pin code.
The example we cited in local SEO was of Bengaluru, which is a pretty large city. Someone sitting at one corner of Bengaluru would not want to travel to the other corner 40+ km away to look for a hospital or a medical clinic. Using hyperlocal search, they can find hospitals near their location.
Let's say a person in Bellandur (a suburb of Bengaluru) searches for "hospitals in Bellandur." Now they'll get different search results if they had searched for "hospitals in Bengaluru."
Why? Hyperlocal Search. They'll be shown specific hospitals in their proximity. Here's a screenshot for your reference: 
Now that you know what hyperlocal search is, let's learn why healthcare providers must pay attention to it.
Why Do Healthcare Providers Need to Focus on Hyperlocal Search?
The rise of hyperlocal search has revolutionized the way consumers make purchasing decisions. Thanks to the ubiquity of mobile devices, it's easier than ever to search for businesses and products in your local area. This has transformed the modern healthcare experience, allowing consumers to find what they need quickly and efficiently, even when they're on the move.
Whether you're looking for the best-reviewed hospital, a gynecologist near your locality, or specialized treatment for your allergies, hyperlocal search provides targeted results to consumers.
Here are some pertinent statistics depicting the rise of hyperlocal search, especially for healthcare providers:
88% of smartphone users search for healthcare services online.
89% of such searches started on Google.
2/3 of such searches for healthcare services were location-based searches. Further, consumers searched for "near me" or "near town/city/locality," or "in town/city/locality"
More than 50% of such searches were for specific "medical specialty," or "doctor," or "condition." For example, hyperlocal search patterns would look like this: "Cardiologist near me," "best gynecologist in Chennai," etc.
How Healthcare Providers Can Leverage the Power of Hyperlocal Search
1) Increasing the Visibility of their Healthcare Business Locally
In the world of healthcare, convenience is vital for patients. They want a hospital, clinic, or a medical practitioner that is close to their home or workplace, and as an establishment in the healthcare industry, you want to be the first option that pops up when someone searches for those needs. After all, patients' medical needs are urgent, and your prompt response could mean the world to them.
Improving your online presence with hyperlocal search is crucial, and one way to do this is by utilizing the power of Google Business Profile.
Imagine a patient conducting 'near me searches' for hospitals or doctors and coming across Google's 3-pack view of top relevant and nearby options. Here's an example depicting the 3-pack search view.
By optimizing your Google Business Profile (GBP), your business can be listed in these top three options, boosting the chances of patients selecting your services above all others. It's a powerful way to stand out in a crowded field and showcase your healthcare brand to those in need.
Here's what an ideal Google Business Profile of an individual healthcare facility looks like:
Good Read: Unlocking the Benefits of Google Business Profile for Diagnostic Centres
2) Improve Credibility
When it comes to choosing a healthcare provider, patients are often left feeling confused and skeptical due to the abundance of conflicting information and the lack of reliable sources.
But what if we told you there's a solution to this problem? Optimizing the Google Business Profile for your healthcare organization or individual practitioner listings that showcase all the necessary information, from your address and contact details to customer reviews and photos. This boosts your online credibility and makes it easier for patients to trust and choose your practice over others.
Here are visual examples depicting the importance of improving credibility: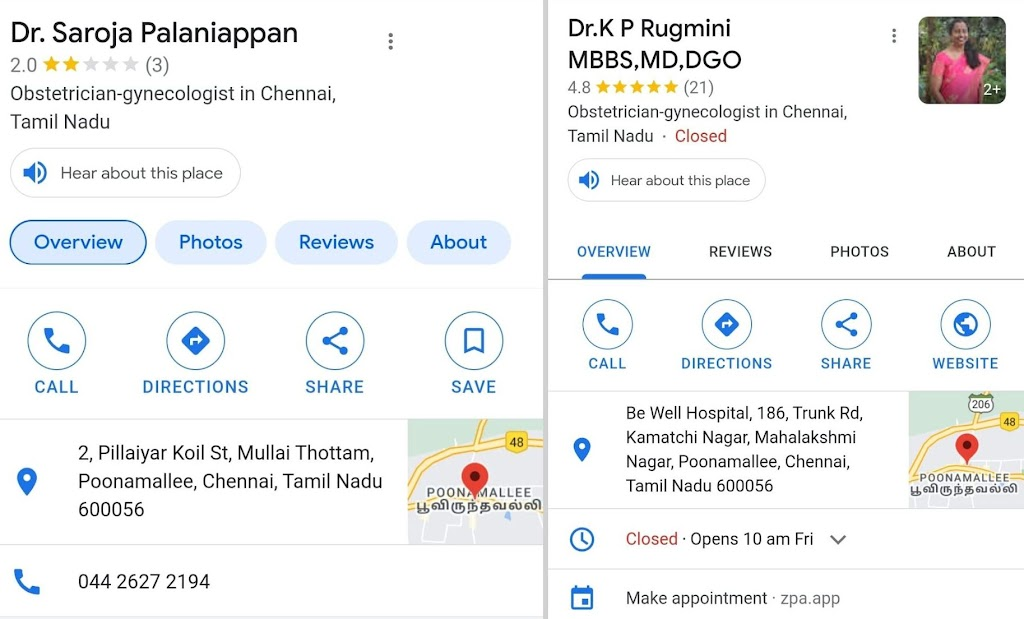 If you look at the above two gynecologist profile listings as showcased on Google, which one would you choose?
The one with all their qualifications and credentials stated upfront?
The one with the best reviews and ratings?
The one showcasing the operational timings?
The one with the option of making appointment bookings?
Pro Tip: In addition to healthcare provider listings on Google and other directories, it's important to note the significance of Practitioner or Doctor Listings. Doctor listings on Google can provide patients with valuable information about individual healthcare professionals, including their qualifications, ratings and reviews, and specialization during search, enabling them to stand out over the competition as a trusted, reliable source for care delivery.
3) Creating a Seamless Consumer Journey
Healthcare providers have started implementing technology to make their internal operations seamless. While hospitals need internal CRM systems like a Hospital management information system (HIMS) to manage patient data, it is equally essential to have consumer-facing technology to provide a seamless patient experience.
In addition to allowing patients to interact with hospitals and healthcare providers easily and conveniently, consumer-facing technology can facilitate initial interactions between potential patients and healthcare systems.
Effective consumer-facing technology can encourage potential patients to seek care when needed and help build trust in healthcare systems. Therefore, the need for such technology is essential in improving patient access to healthcare and promoting better health outcomes.
Some examples of consumer-facing technology include:
Online appointment booking systems: To schedule appointments online , eliminating the need for them to call or visit the hospital in person. This convenience can increase patient engagement and satisfaction.
Telehealth services: This allows patients to receive medical care remotely, using videoconferencing or other telecommunication technologies
Social media platforms: Hospitals and healthcare providers can use social media to share information and educational content with their patients and the wider community. This can include tips for healthy living, disease prevention, and updates on medical advancements.
Communication: In addition to providing health-related information through social media platforms, healthcare providers can also engage patients through chat and messaging features on popular platforms like WhatsApp and Google. These messaging features can be used to provide personalized support and assistance, answer patient inquiries related to pricing, and even offer telemedicine services.
By enabling hyperlocal SEO techniques to match the above consumer-facing requirements, such as optimizing your Google Business Profile listings, creating relevant content, and offering flexible self-service appointments & scheduling, you can make the consumer journey short and more seamless.
Now that you know the importance of hyperlocal search for healthcare businesses, you may be wondering how to make the most of this opportunity. Fortunately, Zceppa is here to help. This powerful tool can help you harness the potential of hyperlocal search and give your business a competitive edge.
Harness the Power of Hyperlocal Search with Zceppa
Zceppa empowers healthcare providers with a cutting-edge on-the-cloud SaaS Location Marketing Platform that goes beyond simply attracting patients. With Zceppa, multi-specialty hospitals, diagnostic centers, and healthcare providers can truly elevate their patient experiences and stand out from the competition. By leveraging this powerful platform, healthcare providers can differentiate themselves in a crowded market and ultimately win the trust and loyalty of patients.
Here's how you can maximize the patient experience and grow your healthcare business.
With Zceppa's Listings, you can stay one step ahead of your competition with standardize listings on multiple platforms like Facebook, Google and more. Our listing notifications help keep all information in line to improve local search results so people find your business when they use a 'near me' query at any operational location. Gain insights into customer interactions for maximum visibility and make sure the most current information is available – ensuring no potential customers miss out!
You can use Zceppa's review manager to make reviews your unfair advantage over the competition. Leverage the power of personalized invites to get more reviews on Google, Facebook, and other sites that matter to your business. Always be a step ahead with automated alerts that notify you when a new review is posted, and respond instantly to ensure customers feel heard and appreciated. Use the Zceppa Review widget to automatically showcase top reviews on your website and location pages for enhanced traffic.
One of the biggest turndowns for potential customers is non-responsive businesses, which leads to poor customer experience. However, Zceppa's Interact can help you seamlessly connect to potential customers and patients via Whatsapp, SMS, Facebook Messenger, Google's Business Manager, and Instagram.
Interact unifies messages from all channels into a single platform and sends smart, automated replies. This boosts productivity and improves the reputation of your business.
Say goodbye to frustrating scheduling mishaps and hello to 24/7 on-the-go booking, accessible to your customers wherever they are. With Zceppa's Scheduling, you'll be able to consolidate bookings from multiple channels into one central location, streamlining your workflow and increasing efficiency. Plus, our personalized communication features enable you to reach out to customers across multiple platforms, ensuring that no-shows become a thing of the past.
Still, need more reasons to choose Zceppa? We recently helped a leading diagnostic chain maximize patient conversions and achieved the following:
Increased month-on-month leads by 115%.
Boost ROI by up to 400 times.
Skyrocket traffic and engagement by 300%.
Signup for a free trial
Zceppa's products empower your business to win every mobile-first consumer interaction across the buying journey.