Multi-Speciality Hospitals in the Digital Age:Navigating Online Discoverability, Reputation, Credibility, And Patient Experience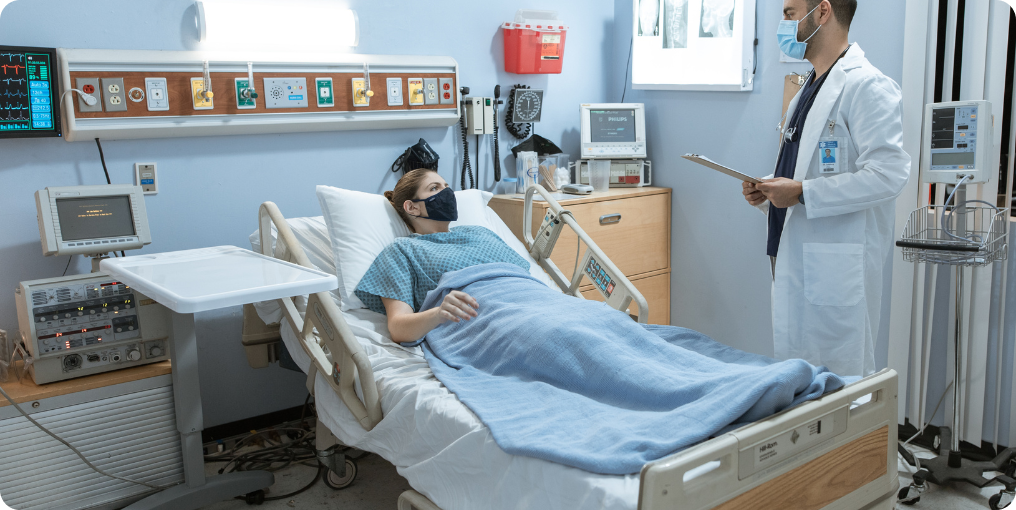 Over 51% of consumers search online when they look for new healthcare providers or services. Thanks to digitalization, the Internet has now become the preferred choice for consumers to find healthcare providers or services.
Every step of this journey – discovery, choice, and decision – is digitally influenced. 
Online search drives discovery. Reviews, ratings, and social media activity inform credibility, influencing patient choice. Seamless online-to-offline experiences that are fast, available 24/7, convenient, and easy to use impact patient decisions. 
Hence, healthcare providers must navigate digital discovery, online reputation & social proof, and seamless online-to-offline patient experiences to attract new patients and drive growth in today's digital world. 
This is more true for multi-speciality and super-specialty hospitals. Why so? In-patient procedures and services (surgeries, childbirth, etc.) that have low repeat rates and hence low LTV (lifetime value) drive well over 65% of their revenue today. Hence, attracting more new patients is vital for business continuity and growth. 
If you are a multi-speciality or super-specialty hospital, this guide can provide you with great insights and tools on how to leverage location marketing. It will help you understand the three key pillars of today's patient journey – digital discovery, online reputation & credibility, and seamless online-to-offline patient experiences – and provide actionable steps to master them, helping drive business growth. 
Digital – A Key Source for Acquiring New Patients
Leverage the power of digital marketing to improve discoverability and credibility and ultimately reach a broader audience. 
A sure-shot way of improving discoverability is by being listed on various online channels like search engines, social media, and websites, i.e., all places where patients and caregivers might search for doctors, specialties, or hospitals.
You can also boost your online credibility by accurately sharing business information across various platforms like contact details, address, opening hours, services provided, patient reviews, photos, etc. It is essential because Google values cross-referenced data, so having the same phone number across all digital assets will boost your ranking & discoverability. 
Additionally, with all the information available over the counter, it is easier for patients to trust and have confidence in your healthcare business and ultimately choose your hospital over others.
Factors Driving Digital Patient Engagement
According to recent research, 2/3rd of all searches for healthcare providers or services are hyperlocal in nature. In other words, when patients search online, they are seeking information in a specific geographic area of their choice, such as a particular street, block, community, or city. GPS and the location-tracking capabilities of our internet-enabled devices are powering this transformation, making hyperlocal search vital in healthcare discovery today. 
People rarely look for the most reputed hospital worldwide to avoid traveling several miles or hours to visit a doctor. Instead, they use the "near me" feature to find businesses. 
For instance, a patient staying in Noida (UP) will want to avoid traveling 53 km to a multispecialty hospital in Gurugram (Haryana). Instead, they will use hyperlocal search to find the most optimal hospital within proximity.
Here's how hyperlocal search has been shaping the healthcare industry-
The trend of people turning to the Internet for health-related services is indeed growing rapidly. 88% of Smartphone users search online for healthcare services. This is consistent with the overall trend of digitalization, the rise of digital health platforms, and the growing reliance on online resources for health-related queries.
2/3rd of such searches are hyperlocal. This is largely dominated by the need for convenience, accessibility, and personalized care. People prefer healthcare services that are easily accessible from their homes or workplaces, as it reduces travel time and ensures prompt medical attention when needed. 
51.5% of people look for a doctor/specialty/condition instead of directly searching a hospital's name. This behavior can be attributed to factors like personalized care, condition-centric search, referrals, and trust in doctors with good repute.
400% of global growth in "open now near me" searches. The increasing prevalence of smartphones and location-based services has made it extremely easy for people to search for nearby hospitals and services, especially when they need immediate assistance or urgent care.
"Near me" searches usually indicate a sense of urgency, and often people who perform these searches are more likely to take prompt action. In fact, 76% of people who do a "near me" search call, walk-in, or schedule an appointment within 24 hours. 
Hence, hospitals should capitalize on this emerging opportunity to maximize conversion by optimizing their Google business listings, practitioner listings, and websites for specific keywords so that their business profile comes up when a user searches for those keywords on Google. 
Key Takeaways: GPS and Location Tracking Services Shape Healthcare Discovery
Patient inbound is strongly dominated by internet search; the essence is that if you are visible to your patients online if they can see about your practice on social media or third-party websites, they are more likely to trust you. 
Instead of looking for a hospital that is miles away, people seek hospitals and healthcare providers within close proximity- Hence, you should have a strong online presence that dominates this hyperlocal search.
The crux of it all lies in acing- Digital Discovery, Online Reputation & Credibility, and Seamless Patient Experience.
Let's navigate through each of these aspects in detail.
Digital Discovery for Multispecialty Hospitals 
Significance 
Digital discoverability refers to the ability of your hospital to be found on the internet. It involves making your information easily accessible so potential patients and caregivers can find and learn about your business. 
It is essential because it-
A) Increases Visibility: By ensuring your hospital's information is available on various online channels such as search engines and social media, you increase the chances of potential customers finding you. This, in turn, increases your reach to a broader audience.
B) Creates Brand Awareness: Discoverability helps create awareness about your hospital and the services you offer. When people consistently come across your brand through multiple channels, it increases familiarity, making them more likely to choose you.
C) Attracts Relevant Audience: Increased discoverability allows you to showcase your USP and attract customers specifically looking for your services. This, in turn, attracts relevant customers and increases leads and conversions.
How To Achieve Discoverability?
1) Utilize Practitioner/Doctor Listings
Research shows that 51.5% of people choose physician experience when choosing a hospital. 
Additionally, patients search for doctors or specialties rather than hospitals. Hence, as a multispecialty hospital, you must list your doctors and practitioners on platforms where your potential patient searches, including local business directories such as Google Business Profile. 
Since these directories rank higher in search engines, practitioners listed on them will also start ranking higher. When your hospital has highly-rated doctors, your healthcare business will automatically become more visible to patients. 
2) Utilize GBP Categories to Showcase Expertise
While completing your Google Business Profile (GBP), Google lets you choose one primary and up to 9 additional categories from over 4000 categories. 
The GBP category you choose best describes your business as a whole because it reflects right under the name on the search and connects you with customers looking for similar products or services. 
This is a crucial local SEO ranking factor & significantly contributes to the Google local pack and your business ranking. However, since Google keeps updating these categories and subcategories, you must regularly check them for relevancy.
Key Takeaway: Great Listings & Expertise Improve Ranking & Search Discovery 
Implementing digital tools and solutions is the key to enhancing the discovery and delivery of healthcare services across various medical specialties.
Leveraging digital tools like patient portals, social media websites, online communities, and educational resources can increase your online familiarity.
By listing practitioners online and publishing informative articles, videos, infographics, and patient testimonials, hospitals can establish themselves as thought leaders and trusted sources of healthcare information.
Online Reputation & Credibility
When patients look for hospitals or healthcare services online, they often seek indicators of credibility and quality.
Offline recognition, such as being affiliated with prestigious medical associations or being recognized as the top hospital, along with other accreditations and awards, can increase your potential patients' trust and confidence. These achievements are evidence of hospitals' expertise, and showcasing these online will help build credibility by reassuring patients that they will receive quality care. All of this will ultimately position you as a preferred choice for potential patients.
Additionally, including positive reviews also contributes to building credibility. These statistics corroborate the same-
Remember to add relevant content, including qualifications, unique skills, specialized services, areas of expertise, etc., to attract patients seeking those attributes. Patients also tend to trust practitioners/ doctors recognized as experts in their fields.
Key Takeaways: Reviews, Ratings & Social Media Engagement Enhance Credibility
As patients increasingly rely on online resources to make healthcare decisions, a hospital's credibility and reputation can significantly impact patient acquisition and trust and ultimately helps thrive in a competitive healthcare landscape.
Positive reviews, testimonials, and ratings from patients who have received quality care help prospective patients feel more comfortable choosing a particular multi-speciality hospital.
Responding to patient feedback and active participation on social media platforms shows a dedicated commitment to patient engagement and well-being. It contributes to the hospital's credibility and fosters a positive online reputation.
Seamless Online-to-Offline Patient Experiences
Patient experience implies all types of interactions that a patient witnesses throughout his entire healthcare journey, including care from the physician, staff, nurses, and healthcare facilities.
After the COVID-19 pandemic, people's preference for engaging and communicating with doctors and hospitals has shifted from in-person to digital through various omnichannel online mediums. These tools allow patients and doctors to communicate rapidly and clearly. 
The seamless digital exchange of crucial information will also expedite the process and eliminate delays. As a result, patients are ultimately provided with better-quality services.
Communication with Doctors and Hospitals Should be Easy
In Pre-covid times, if patients had to communicate with the doctor, they used to meet the latter in person. There was no way to seek any additional advice after the session except to consult the doctor again physically. 
However, today, for better discoverability, patient engagement needs to be streamlined with an omnichannel approach. Super specialty hospitals might need components like Electronic Health Records and Patient Engagement Software to achieve the same.
Facilitating accessible patient-doctor communication via calls, messages, mobile apps, Whatsapp, etc., will assist in the pursuit. The doctors can provide online consultations, review reports, and diagnose quickly. 
Key Takeaway: Easy Patient-Doctor Communication via Omnichannel Approach Improves Patient Satisfaction
By offering online appointment scheduling, virtual consultations, and access to medical records through patient portals, hospitals empower patients to manage their healthcare from anywhere at any time.
Hospitals implementing self-service check-in kiosks or online check-in options to minimize waiting times during in-person registration have seen more positive patient feedback.
When patients can easily navigate between digital interactions and in-person visits without disruptions or gaps in care, they are more likely to lead to word-of-mouth recommendations, referrals, and increased patient loyalty.
Location Marketing- A Factor that Influences Patients' Decision in Choosing a Hospital
A few years back, location marketing seemed a complex and fragmented process. Healthcare providers found it difficult to communicate their services digitally, often relying on traditional marketing methods like billboards and newspaper ads. 
However, these methods were effective only to a certain degree as they lacked targeting capabilities and failed to reach the right audience- patients actively seeking medical assistance within a particular area. As a result, healthcare providers faced obstacles in attracting new patients and expanding their reach.
With the advent of modern tools and digital marketing strategies, location marketing in the healthcare industry has transformed dramatically. Now healthcare organizations have access to abundant techniques and platforms that enable them to precisely target their desired audience based on location, demographics, and specific healthcare needs.
What is so essential about location marketing with respect to a patient's digital journey?
Well, everything!
It is not some plot on the ground; instead, it is a cutting-edge technique that involves highlighting and leveraging the geographical aspect of a healthcare organization to attract and engage patients, emphasizing Discoverability, Choice, and Experience.
Location Marketing clearly enhances digital visibility and influences patients' choice of whether or not they choose a healthcare facility. 
As mentioned earlier, discoverability, choice, and experience are the three pillars of a successful customer journey. Let's see how-
Discoverability is about ensuring that a healthcare organization is easily found by potential patients. By highlighting their location, providers can easily communicate their accessibility and convenience to potential patients, increasing their discoverability and, ultimately, the likelihood of them seeking care at their facility. When patients see that a provider is close by, they tend to feel more comfortable and confident in the quality of care they will receive. This can be particularly important for emergency services, where proximity can make all the difference in saving lives.
Choice is about giving your patients a wide range of options to cater to their diverse preferences. This can be done by displaying an extensive portfolio of different types of healthcare services an organization provides, offering personalized recommendations, and tailored solutions. This not only increases their satisfaction but also helps build trust and loyalty.
Experience is about how smooth the patient's overall journey and interaction with the healthcare organization is. By prioritizing unparalleled customer service, seamless user interfaces, intuitive design, and consistent information across all social media and other digital platforms, healthcare providers can ensure a smooth patient experience that sets them apart from competitors. A positive patient experience is very important in encouraging repeat business, patient loyalty, and advocacy.
Overall, the transformation of location marketing in the healthcare industry has revolutionized how patients choose a hospital.
Key Takeaways: Ensuring Discoverability, Offering Choice and Improving Overall Patient Experience Brings Repeat Business
Location Marketing is the best way for healthcare providers to reach potential patients keenly looking for medical consultation and services near their area.

Discoverability, choice, and experience are Location Marketing 101.  Healthcare organizations need to optimize their digital presence with SEO techniques, displaying a portfolio of services offered, creating engaging content, showcasing their location, and targeting specific geographical locations.

The focus should not just be on increasing visibility but also on providing an improved patient experience. This could include improving every touchpoint, right from the initial introduction to personalized messages and post-interaction services.
How Zceppa Helps Multi-Speciality Hospitals
Zceppa is a Cloud-based SaaS platform for healthcare location marketing & patient experience. It provides multispecialty hospitals with an on-the-cloud multi-location marketing platform that goes beyond just attracting patients. It is a one-stop solution to optimize local discovery, online reputation & credibility, and patient experiences.
Let's take a look at how Zceppa helps:
Zceppa Listings
On average, 24% of consumers click on the Local Pack when searching for services. Without a Google My Business listing, hospitals could miss out on a large number of potential customers.
Using Zceppa, you can dominate local search and boost visibility by ensuring all your locations consistently rank at the top of the search. 
With Zceppa listings, managing and synchronizing your listings across different platforms is effortless. Save time and maintain consistency and precision in your information with a single click. Our automated workflows ensure that critical details are regularly updated, adding value to your business profile listings.
To ensure you always stay on top of your listings, Zceppa's nudge-based architecture will allow you to proactively execute essential tasks like responding to Q&As, updating recent photos/videos, opening hours, services, etc.
Our brilliant recommendation engine will also provide you with the best categories & keywords to boost hyperlocal, local, or international search.
Key Statistics Achieved For Our Customers:
300% Increase in Search Visibility
More than 90% of the businesses rank at the top of local search for relevant keywords.
Customer Speak:
"Zceppa helped us manage our listings accurately & consistently respond to reviews across all our locations, all from a single, easy-to-use interface." 
Mr. Arun, General Manager, Aarthi Scans
Result: 300% Growth in Engagement
Zceppa Reviews
Turn customers into your brand ambassadors through the power of Zceppa Reviews.
Leverage text-based invites to get more Reviews on Google, Facebook, and other sites that matter the most to your hospital. Collect reviews automatically after a service, rank higher, and get more leads.
By showing instant alerts, Zceppa will let you respond to every review in real time in the patient's choice of language. You can respond from a single interface even if the reviews are on different platforms. 
You can also send personalized messages at scale and manage all your locations in real-time.
The best of it all is that you'll get an insight into the review analytics to determine the areas that are working well and areas that need improvement. By comprehending the data, you can make informed decisions and improve customer experience.
Key Statistics Achieved For Our Customers:
225% Increase in Revenue
57% Increase in Leads
5X Increase in Conversions
Customer Speak: 
"Using Zceppa has been easy to get reviews for my clinic, and my ratings/reviews have skyrocketed. It has definitely helped me get chosen by a lot of couples and is a key source of reference/leads for me. Thanks, Zceppa."
Ms. Priya Kalyani, MD & CEO, Kanaa Fertility Center
Result: 300% Growth in Reviews
"Zceppa has made it easy for our front desk staff to request and get reviews from patients. This has improved our organic search visibility and leads. We got twice as many organic inquiries in 2022 than before onboarding onto Zceppa!"
Dr. Neethu Sen, BAMS MD, HEAD-Operations, Sanjeevanam Ayurvedic Center
Result: 4.3-4.6 Growth in Rating
Zceppa Social
Social Media Management can be challenging, as it requires a deep understanding of what resonates well with your target audience. From devising engaging content ideas to optimizing social media platforms, it is a time-consuming process. That's where Zceppa Social comes into play. Here's how:
Get access to a social calendar that includes an automatic scheduler, allowing you to plan your social media strategy strategically. 
Enhance your social media presence by adding high-converting call-to-action buttons, tempting offers, and valuable coupons to attract potential customers and increase visits. 
Furthermore, Zceppa Social automatically shares customer reviews on your social media profiles, boosting your credibility and ultimately increasing your conversion rates. 
Key Statistics Achieved For Our Customers:
12% Increase in Sales
250% Increase in Engagement
8X Increase in Consumer Actions
Customer Speak:
"At Aarthi Scans and Labs, managing 120+ branches online was always a hassle. Zceppa Interact, Reviews and Social solved the problem for us and our customers. Every B2C healthcare brand can benefit from Zceppa features. Zceppa team has been very customer friendly and receptive to our problems"
Mr. Arun, General Manager, Aarthi Scans
Result: 300% Growth in Engagement
With Zceppa Social, you can take every location to new heights. Here's how.
Zceppa Interact
How about you allow your patients to communicate seamlessly with your location teams via messages, WhatsApp, Facebook Messenger, Instagram DMs, or Google's Business Messages? Meet Zceppa Interact.
Zceppa streamlines patient conversations by bringing them together from different platforms into one convenient location. No more jumping between platforms or devices.

With built-in templates and pre-approved content, you can engage potential patients in real time, providing a delightful experience and increasing your business.

Easily assign conversations to the appropriate departments, track progress, and analyze metrics to enhance your performance.
Key Statistics Achieved For Our Customers
27% Increase in Sales
113% Increase in Conversions Rates
Customer Speak:
"Having completed a pilot of Zceppa Interact for our super specialty hospital in Ranchi, the product is already helping us engage with our customers in a more prompt and effective manner. We have also expanded Zceppa to Iris, our eye hospital, and iDerma, our cosmetic dermatology center as well."
– Anant Jain, Director, Orchid Medical Centre
Result: >350 Unique Engagements in 40 Days
Multi-Location Manager for Scalability
Whether you are situated at 2 or 100+ locations, Zceppa Multi-Location Manager allows you to manage all of them from a single interface.  
With just a few clicks, you can streamline the contact information, including opening hours, phone number, details, services, appointments, reviews, etc.
AI-enabled tools will ensure your hospital's brand image is consistently represented across all locations.
You'll also get keyword recommendations for descriptions and replies to ensure search engine optimization.
Key Statistics Achieved For Our Customers
18X Increase in Search Visibility
5X Increase in Traffic 
40% Increase in Conversions Rates
Case Studies: How Zceppa Helped Maximize Leads in the Real World
1) NABH Accredited multi-speciality Hospital in Rachi
Objective
Ensuring digital discovery, enhancing online reputation, and enabling an omnichannel communication mechanism.
Challenges
The practice didn't have any doctor/specialty listings on Google. This affected organic discovery during the search, resulting in a loss of high-potential leads & patients.
There was no solution to collect, manage, or respond to patient reviews, neither at the hospital nor the doctor level. This adversely impacted digital discovery & patient choice.
Lastly, although the practice knew that platforms like WhatsApp and Google Business Messaging were convenient for patients, it had yet to implement any unified solution to receive and respond to customer inquiries promptly. 
Solution
Zceppa employed the following three solutions:
Listings– It created, optimized, and continuously managed 30 doctor and specialty listings or profiles on Google.
Review Manager– It enabled hospitals, doctors, and specialties to consistently get and respond to patient reviews on Google at scale. Furthermore, leaderboard, goal-based approach, and gamification helped improve customer service team performance and responsiveness, ensuring a streamlined organization-wide review management process.
Interact– Enabled 2-way communication across WhatsApp and Google's Business Messages via a unified inbox. Features like real-time alerts, notifications, and ticketing ensured quick response time and rapid resolution of inbound queries. This omnichannel communication improved patient experience and boosted conversions.
Results
1500+ New Google Reviews
40% Increase in Conversions
310% Inbound monthly customer inquiries via WhatsApp and Google
2X Increase in Leads and Walk-ins
14x Increase in Google profile ranking for keyword searches
200X ROI delivered
2) Leading Diagnostic Chain With 120+ Centers All Over India
Objective
Maximize Conversions through Messaging and provide a Unified Inbox with real-time notifications to help manage the diagnostic chain's inbound queries from Google search.
Challenges
There was no mechanism for consumers/patients to message the centers from Google Search and Maps directly. Additionally, there was no tracking or follow-up procedure for inbound messages from potential customers.
Solution
Zceppa Interact was employed for 40 of the nodal diagnostic centers. This helped all these locations receive direct inbound customer queries from Google searches within the Zceppa dashboard.
Because of the notifications received, team members were reminded to respond to patient queries promptly.
Insight reports provided response rates that helped take corrective action.
Results
3000+ Inbound Messages in 4 months.
14% of these were informational, resulting in a better customer experience.
66% were New Leads.
Takeaway
Multispecialty hospitals must pinpoint their digital touchpoints to reach and engage with patients effectively. This involves incorporating the keywords for local and hyper-local searches that patients utilize in their search, getting listed on Google, improving credibility by sharing reviews, and actively responding to patient comments and inquiries. 
This guide is an opportunity for multispecialty hospitals to gain detailed insights on how to increase brand awareness, improve online visibility, enhance online reputation & credibility, and ultimately acquire new patients.
Ready to become the healthcare partner of choice for today's mobile-first consumer? Get started with our bonus free trial today!
Signup for a free trial
Zceppa's products empower your business to win every mobile-first consumer interaction across the buying journey.