Power WhatsApp Marketing at Scale with Zceppa and Improve ROAS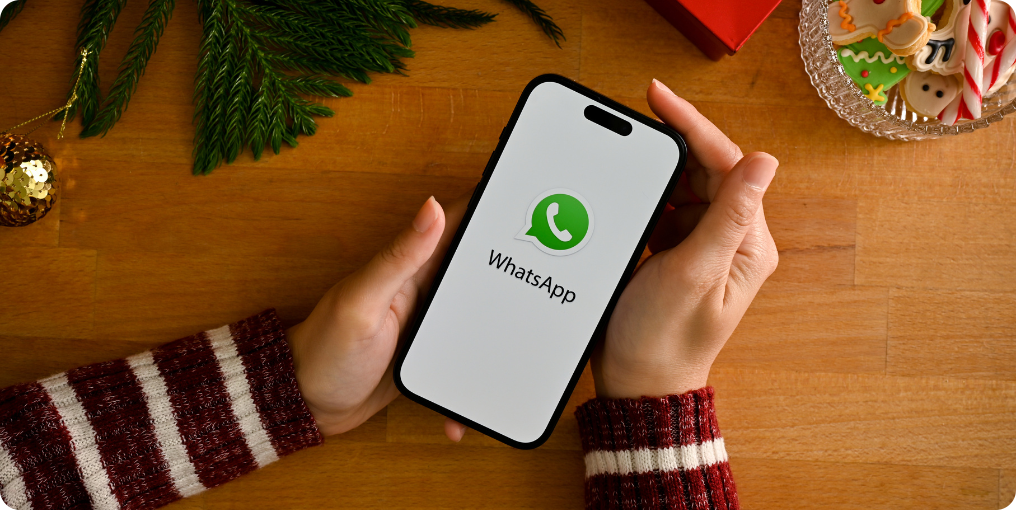 With 487 million WhatsApp users in India alone, it is undoubtedly one of the most popular messaging apps.
Thanks to its "WhatsApp Business" offering, businesses can now connect with their customers more efficiently, making it a top choice for companies seeking an effective communication solution.
In addition, WhatsApp provides one of the best returns on advertising spend when compared to other platforms like Google Ads and Facebook Ads. Facebook has even introduced a new feature called "Click to WhatsApp Ads," which allows users to begin a conversation with a business through the messaging app. With its impressive user base and advertising potential, WhatsApp is essential for any business looking to engage with its audience.
"Ads that click to WhatsApp have a five times lower cost per acquisition as compared to other conversion campaigns. "
Omay Foods, an Indian company that manufactures snacks, has been using WhatsApp for its ads and experiencing a 5x increase in customer inquiries, a 3x increase in repeat customers, and a 5x increase in sales for retail channels.
"Global users downloading WhatsApp Business increased from 37.87 million in 2018 to 283.51 million in 2022. "
Statistics worldwide make it evident that most consumers use WhatsApp, and it appears to be a much easier channel in terms of conversion and ROAS (Return on Ad Spend). To put it into perspective, businesses can and should use Whatsapp to scale the engagement of audiences, snowball sales, and achieve better customer support outcomes- all at a great ROAS.
One way to do so is by communicating with customers by sending bulk messages.
This blog discusses why you should use Whatsapp API for bulk messages and tips for effective Whatsapp marketing campaigns. It also covers the recent changes in Whatsapp template categories and pricing structure. Ultimately, you'll learn how to send bulk messages to drive business growth.
What are WhatsApp Bulk Messages?
WhatsApp bulk messages are the messages that are sent from one WhatsApp Business user to a large number of recipients at the same time. All recipients will see the message coming in as a private message.
There are two ways of sending Whatsapp Bulk Messages: the WhatsApp Business App and WhatsApp for Business APIs. Let's take a closer look at both these mediums.
WhatsApp Business App: For Micro & Small Businesses
The WhatsApp Business app lets businesses create a broadcast list, i.e., a list of contacts that companies can repeatedly send messages to at once without having to select the numbers individually each time. It doesn't require any external software to send messages, is free of cost, and is apt for small businesses, as it allows saving up to only 256 contacts in a broadcast list. Here's how you can send bulk messages using the App:
Open the Whatsapp Business App
Tap on the More Options Icon at the top right corner of the screen : > New broadcast.
Search by name or select the contacts you want to add to the list.
Tap the check mark button, and the list will be created
Send your message.
Whatsapp API: For Medium and Large Organizations
With WhatsApp API, you can send bulk messages once you've verified your Facebook Business Manager. Hence the module is suitable for businesses running on a large scale.
To proceed, you primarily need a Whatsapp API Account and a conversational marketing platform to send and receive messages.
Whatsapp business platforms like Zceppa give you instant access to Whatsapp API and allow you to build stronger customer relationships and have a greater realization on the campaign budget by facilitating programmable two-way conversations.
Important: It is crucial to note that several unofficial Whatsapp API providers guarantee API access without documentation and formalities. However, they don't disclose that if caught, businesses that obtain unofficial API access can be permanently blocked. Hence, you must choose your business solution provider carefully.
How To Send WhatsApp Bulk Messages Using Zceppa Dashboard
For bulk messaging, select the Messaging tab on the left menu of your Zceppa Dashboard. Now select Whatsapp under the 'Create Message From' tab.
Pick the campaign that you want to select. It is the most searchable interface. The most recent templates will show on top, and your newly created templates within the last month will be starred.
You can also see additional templates, which you can search by title. The Zceppa dashboard is fairly usable and accessible.
You'll see your template preview on the right side pane of the page. You can send dynamic content to your customers in various use cases.
Following is the preview of a text-based template.
Following is the preview of a text + CTA template.
Following is the preview of an image and text, followed by a CTA template. Zceppa supports all document types that Meta allows, such as PDF, DocX, and multi-media as well.
Zceppa also shows what happened to your campaign, what got sent, and when did it complete.
The Customer List Feature in Zceppa allows you to send the marketing templates a bunch of pre-saved contacts, which you can create and store in a list.
The templates for bulk messaging need to be approved by Meta. Zceppa facilitates this approval almost in real-time. You just have to go to settings, click the Messaging tab, and choose Whatsapp Template. Add your content to the template, and submit it for approval.
Once approved, you will get notifications.
Once the messages are sent out and your customers receive messages, they can message you back through CTA or just respond through a reply message. And when they do so, you'll receive the incoming messages as a conversation in the Zceppa Interact Unified inbox, where you can continue to send them additional responses and messages, as you can see here.
In case the chats are not seen, notifications are sent out to the businesses along with end-of-the-day daily reports, and businesses can see how many new conversations they had and whether there were any missed conversations. This helps keep track of their leads.
To follow up on a particular conversation, you can raise it as a ticket to their internal team member.
Fill in the details in the respective section and click on submit, as showcased below.
In addition, you gain valuable insights into your team's performance with detailed information on your conversation metrics. Track how many conversations you've had, the members involved conversation lengths, and trends. Stay on top of your performance with daily, weekly, and monthly reports and real-time notifications.
WhatsApp Marketing: Tips for Sending Effective WhatsApp Bulk Messages
When sending WhatsApp bulk messages, it is vital to keep the following tips in mind:
1) Be Mindful of When to Schedule Your Messages
Consider the timing of your messages. When your customers reply or engage, keep a tab on the timing and strategize accordingly. Schedule your messages to be sent at times when your recipients are most likely to be online.
Additionally, pay close attention to your messaging cap, i.e., the total number of messages your customers find acceptable. This will keep them from reaching the unsubscribe button.
2) Keep Your Messages Short and Use Clear Language
It's essential to strike the right balance when crafting a message. You don't want it to read like a dissertation, but at the same time, you don't want to make it so brief that it becomes difficult for your audience to follow.
The ideal approach is to ensure your message is concise, straightforward, and easy to understand, with language that is accessible to all. Doing this makes you more likely to capture your audience's attention and effectively convey your intended meaning.
3) Personalize Your Messages as much as Possible
Personalization is a deep-rooted aspect of the customer journey. It is a touchpoint that can pay off lucrative rewards for your business.
80% of customers are more likely to purchase from a brand that provides personalized experiences.
72% of people say that they engage only with personalized messaging.
42% of consumers feel annoyed when messages are not personalized.
The above statistics highlight the importance of a robust personalization strategy in your messages. Luckily, Conversational marketing platforms like Zceppa allow you to build a customer list, differentiate it by customer category and send personalized messages to increase engagement.
4) Make Sure Your Messages are Relevant to Your Recipients
It is important to understand that your messages should feel educational and relevant to your audience, not spammy or sales-y.
Using data mining techniques, track your customer's preferences, purchase history, and recommend products they find useful. Empower your audience by sending relevant educational marketing, sales, feedback, or customer support messages.
You can easily leverage Zceppa's messaging platform to create and send targeted content and drive conversions.
5) Incorporate Interactive Features
Engagement is the underlying objective here, and one of the best ways to boost it is to include multimedia features like images, videos, and GIFs in your messages. You can create a buzz with interactive features like product catalogs, polls, and lists.
As a bonus, you can also offer a choice between 2 or more products or services and put it up for a vote to nudge your audience to engage with your messages. You'll be acing the game if you can leverage industry-relevant trends and create content around it.
6) Test Your Messages Before Sending Them to a Large Audience
Once your message is ready, remember to test it before rolling it out to the mass. Testing is an effective way of ensuring that your message is fully optimized. It is a way of double-checking that there are no grammatical or typography errors, links are working correctly, and images are opening quickly.
DON'T FORGET: Include a CTA in your messages. It will tell your audience the desired action to be taken.
Recent Changes to Whatsapp Message Types, Conversations & Pricing
Effective 1st June 2023, the currently known business-initiated conversations will be split into three new categories: Marketing, Authentication, and Utility. Additionally, what is presently known as user-initiated Conversations will subsequently be called Service Conversations.
Furthermore, businesses using the WhatsApp Business Platform will be charged differently for different conversation categories per 24-hour conversation.
Here's a quick walkthrough
Authentication Conversations – These will include conversations and templates that enable businesses to authenticate users at various levels of the login process with one-time passcodes (OTP), such as account verification and account recovery.
The cost per authentication conversation in the Indian Market is not yet finalized.
Utility Conversations – These will include templates and conversations with customers who have opted in to receive a specific, agreed-upon request or transaction. Talk about updates to customers about orders or ongoing transactions, such as recurring billing statements and post-purchase alerts.
The cost per utility conversation in the Indian Market is $0.0042
Marketing Conversations – Any conversation not qualifying as authentication or utility will be classified as a marketing conversation. It will include offers or promotions, informational updates like a back-in-stock or a new product alert, or invitations for customers to respond or take action.
The cost per marketing conversation in the Indian Market is $0.0099
Service Conversations – These will include all user-initiated conversations which help resolve customer inquiries. 1000 Free tier conversations are now limited to User-initiated or Service conversations. After the said limit, the cost per service conversation in the Indian Market is $0.004
Please Note that pricing rates & changes are fully controlled and implemented by Meta, and Zceppa has no say/control over the rates or any changes to rates.
For customers using WhatsApp Business APIs, the pricing updates will automatically get reflected in your Zceppa Subscription, and you will be billed accordingly.
You can read more about Whatsapp Pricing Updates here
Conclusion
With multiple users across the globe using Whatsapp, the App is a game-changer for businesses wanting to engage with a large number of customers. As of January 2023, Whatsapp Business was listed as the 14th most popular business app on the App Store.
By following the tips in this blog, you can send effective WhatsApp bulk messages that will engage your customers and achieve your business goals. Additionally, Zceppa features like the Interact Inbox and Whatsapp Campaigns will help you manage opt-ins, increase open rates and measure conversions.
As always, for any questions & clarifications, please do not hesitate to write us at [email protected]
Signup for a free trial
Zceppa's products empower your business to win every mobile-first consumer interaction across the buying journey.