Top 10 Online Review Management Software Tools for 2023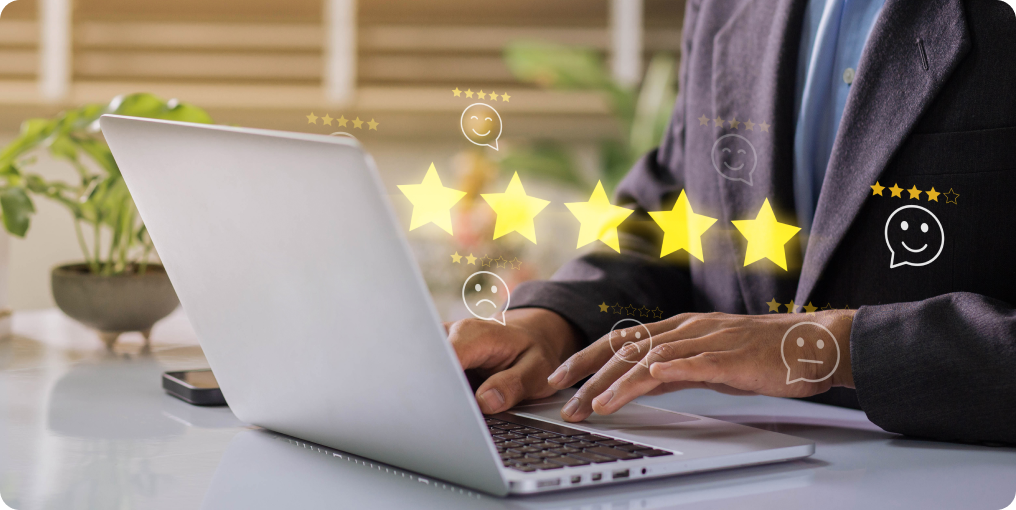 Online reviews have become a game-changer for consumers, with 62% of people relying on them when shopping online. Thanks to digitalization, customers are now more empowered than ever before. With online reviews and testimonials, prospective customers can easily evaluate and compare products, ultimately making informed purchasing decisions.
It's crucial for your business to have a positive online reputation consisting of high-star ratings and exceptional customer experiences. Therefore, prioritizing review collection, management, and promotion is essential for attracting potential customers.
Furthermore, the power of reviews is evident in their contribution to a significant 43% of the factors that impact local rankings.
While manually collecting and managing reviews is a good starting point, it becomes essential to have a technology tool if you have multiple business locations and profiles to handle. These tools offer invaluable insights, analysis, reports, and automation. This guide will help you choose the right review management software by discussing important factors to consider. We've also compiled a list of the top 10 trusted tools thousands of businesses use worldwide.
What To Look For in an Online Review Management Software Tool
When choosing a tool to manage your online reputation, it's crucial to ensure that it comes equipped with the necessary features to monitor and control your reviews and customer testimonials. 
Keep an eye out for essential features like:
Ability To Manage Reviews Across Multiple Platforms
Over 80% of all searches happen on Google today. So pick a tool that provides users with the ability to collect and manage reviews across multiple platforms, making sure key search and social platforms like Google & FB are included. 
Additional integrations with industry-specific platforms to publish and monitor review-related activity could be a real bonus too.
Ability To Gather Multichannel Reviews
Choose an Online Review Management Software that provides multichannel review collection and monitoring capabilities, including review websites, social media platforms, and other industry-specific channels. 
This will help you systematically analyze trends, patterns, and common themes across various platforms. This broader perspective will further give you a comprehensive view of your overall brand reputation, product/service performance, and customer sentiment and satisfaction level. 
Real-time Notifications for Review Management 
Real-time notifications ensure that you are immediately notified when customers post new reviews. This will help you respond promptly, showing your customers that you are attentive to their feedback and concerns, ultimately leading to better customer satisfaction. 
Additionally, receiving instant notifications lets you quickly address any negative feedback before the issue escalates. Features like email alerts and mobile notifications will make it even easier. 
Templates, Configurability & Personalization Options
Predefined messages and templates will let you respond appropriately to different situations, such as thanking a customer for their positive feedback, responding to their concerns, or asking for further- all while saving a lot of time.
Configurability will let you customize the features and settings of the tool to per your business needs, such as selecting the platforms to monitor, adjusting notification preferences, setting up filters and alerts, and defining user roles and permissions. 
Lastly, personalization will let you optimize the review collection interface with your business logo, color schemes, and fonts. It will further help maintain a consistent brand image when responding to and managing the reviews.
The best businesses incentivize their teams to collect reviews proactively. Good tools help you monitor & evaluate team performance on reviews. A team leaderboard will help you with the same. It will display performance metrics, such as response rate and average response time taken to rank individual team members or teams within your organization. 
It will also create healthy competition amongst the team, motivating them to perform better and excel in their respective tasks.
A good review management tool should provide detailed reporting and analytics to help you measure and track key performance indicators (KPIs). Look for features like average ratings, review volume trends, response times, and sentiment analysis reports. 
By tracking these aspects, you can evaluate the effectiveness of your review management strategies and identify areas for improvement.
A unified dashboard will provide a real-time centralized view of your online reviews, ratings, review volume trends, sentiment analysis, and other metrics at a glance. Hence, it will allow you to effectively monitor, manage, and respond to customer feedback. 
The interface of the software you choose should be intuitive and user-friendly, making it easy to navigate around and understand. This will make it easier for you and your team to manage reviews efficiently without extensive training or technical expertise.
Publishing authentic reviews to your website would be another important feature as it can improve SEO.
A widget that can push reviews to your website seamlessly would be a good bonus feature to enhance your marketing activities and increase conversions from your website.
API integration lets the review management software seamlessly connect and communicate with other tools or systems that your business uses. This integration facilitates a streamlined workflow and ensures automated data exchange instead of manual data entry, thus ensuring that information is synchronized across platforms.
Consider the software's capability to integrate with other tools or platforms you use, such as customer relationship management (CRM) systems, industry-specific websites, help desk software, or social media sites. 
Robust customer response provided by the software vendor ensures that you can quickly resolve issues or concerns that may arise when using the review management software tool. 
Additionally, a rapid and prompt responsive customer support team can help troubleshoot problems, provide guidance, and offer solutions- all while minimizing downtime and maximizing productivity. Look for resources such as documentation, tutorials, and responsive customer support channels to assist you in using the tool effectively.
Review the pricing landscape of the software and ensure it aligns with your requirement and budget. Check whether the pricing is based on the number of users, locations, or review volume. Choose software that clearly mentions the features and services included in each package and offers plans that can accommodate your future needs, such as increased team members or review volume. 
Watch out for any hidden additional costs that may arise later, such as charges for integration with other systems, training and onboarding costs, or some add-on features that are not included in the base pricing. 
Benefits of an Online Review Management Software Tool
1) Better Customer Insights
By collecting, consolidating, and analyzing customer reviews and feedback from various online platforms and sources, online review management tools provide a detailed insight into customer experience and perception. By aggregating quite a volume of customer reviews, these tools help identify trends, patterns, common issues, and frequently mentioned products or services. 
This ultimately lets you identify the strengths and weaknesses of your product/service, make data-driven decisions, and prioritize improvements that fulfill customer needs- all leading to more customer-centric offerings.
2) Offers Automation
Review management tools use advanced algorithms to automatically collect reviews from various online platforms, such as social media and review websites. They also automate the process of monitoring and responding to customer reviews. Businesses can respond using pre-written templates or customize the responses.
Additionally, these tools offer automated sentiment analysis, which helps businesses understand the overall perception and sentiment of their customers' reviews. This analysis classifies reviews as positive, negative, or neutral, enabling businesses to address any concerns and identify avenues for improvement.
3) Increases Productivity
With review management tools, businesses can dramatically save time and effort by eliminating the need for manual review collection. The tools also provide real-time monitoring, allowing businesses to stay updated on new reviews as they come in.
These tools also provide a centralized dashboard where businesses can easily track and respond to customer feedback, ensuring that no review goes unnoticed or unanswered. By streamlining the review management process, these tools help businesses stay organized, save time, and ultimately improve productivity by focusing on addressing customer concerns and improving their overall reputation.
4) Streamlined Review Engagement and Response 
Review management tools streamline the process of responding to reviews. They offer a unified dashboard from where you can respond to reviews across various channels. 
They are also equipped with features such as pre-defined response templates, scheduling ability, and reply automation- all of which make it easier to interact with customers on a real-time basis. This high degree of efficiency is lucrative and beneficial for multi-location businesses and those with a high volume of reviews.
5) Better Motivation for Employees
Review Management Tools provide detailed insight into employee/team performance, including attributes like the number of reviews responded to, time taken to respond to a review, etc. This further ensures that the organization has a structured and transparent process that monitors employee performance, ensuring they receive regular appraisals and recognition for their efforts. This increases their motivation level. 
Additionally, review management tools facilitate ongoing communication between managers and employees. Regular feedback helps employees identify areas for improvement and boosts their confidence by highlighting their strengths and accomplishments.
Top 10 Online Review Management Software in 2023
Zceppa is a comprehensive SaaS review management software that helps brands and businesses collect customer reviews across all operational locations. It also helps to be responsive, monitor feedback, and to take actionable measures to boost reputation. 
Zceppa has delivered impressive growth to its clients, with a 225% increase in reviews, a 57% increase in leads, and 5X more conversions. 
Here are a few features that Zceppa offers- 
Automated Review Collection
Automatically collect more reviews on Google, Facebook, and other relevant review sites by leveraging text-based invites. The added advantage is that you can send review requests in the customer's choice of language. 
The goal-based approach, gamification, and unparalleled leaderboard will allow you to track progress in real-time. Additionally, Zceppa's in-moment proprietary process will let you increase conversion rates and boost revenue. 
Multi-Platform Integration & Review Management
Zceppa provides multi-platform support with end-to-end integrations with Google, Facebook, Instagram, and other industry-specific sites. The integration helps to monitor and respond to reviews received on various platforms across different locations on the go from a single interface. 
Zceppa sends real-time notifications each time a review is received, ensuring that you can send a reply on time. Use preset templates, and send personalized responses at large easily and quickly.
Review Performance Matrix
With actionable insights on reviews and customer opinions, Zceppa will help you identify the areas that need improvement and make data-driven decisions to improve customer experience and ROI. 
Review Marketing
With digitalization going strong, your social media marketing should be unique. Zceppa has easy-to-use templates that will lend you a competitive advantage by letting you turn your best reviews into posts and stories.
Birdeye is among the highest-rated review software and messaging platforms with innovative, automated, and AI-embedded integrated solutions. It collects and manages reviews for over 1,00,000 businesses and brands and is easy to use. 
Here are the key features Birdeye offers:
Review Invites
Automation coupled with real-time assistance helps to send hundreds of review requests to customers with minimum effort. You can also upload these reviews directly to your choice of review site with a custom QR code.  
Integration of Platforms
If you wish to build a robust profile on Google and grow your sales, Birdeye's integration with Google's private API will do the trick. The process and interface are very user-friendly, and it takes just a couple of clicks for customers to post their reviews.
Review Monitoring and Management
Using this single integrated dashboard, you can keep track of the reviews posted on almost all review sites. Frequent monitoring further helps ensure that no review goes unattended. The autopilot response feature help to send automated replies to reviews at scale.
Customization
This feature helps to create attractive review requests using your choice of content, colors, and visuals. Customized review requests will allow you to maintain your brand image and theme.
Yotpo provides smart and rewarding data-driven review collection and management solutions. It is a Forbes Cloud 100 company that offers services to brands like Steve Madden, Rebecca Minkoff, and Bob's Discount Furniture. The integration platform connects with commonly used tools, including Google, Facebook, Instagram, and your website. 
YOTPO offers the following features-
Smartly Collects Reviews 
YOTPO addresses high-converting topics that prompt purchases and sends review requests via its in-built email and SMS technology. It uses AI-enabled data-driven tools that provide a simple interface for your customers to share their feedback after every purchase/service they avail.
Obtains Targeted Feedback
It obtains feedback on specific topics and purchases, which collects unique customer insights and helps to understand customer buying patterns and behavior. You can leverage this information to push more relevant data to your customers, increasing the likelihood of revenue generation. 
Integration with Multiple Platforms
You can increase the reach of reviews by taking advantage of YOTPO's official partnership with Google to augment brand discovery, increase organic traffic from search, and convert browsers into buyers.
Automatically Post Reviews on Social Media 
Use the YOTPO platform and leverage AI-powered tools to automatically channel your best customer reviews, photos, and videos on Meta shops. 
Reputation.com is the only AI-enabled software that manages customer feedback and reviews from acquisition to loyalty. It allows businesses to collect, monitor, and publish business and product reviews. Furthermore, the Review Booster feature converts customer survey responses into reviews and ratings on platforms like Google, Tripadvisor, etc. 
The USP of Reputation Review Booster is that it scales up the review volume up to 40% by supercharging review requests, thus ensuring high online discoverability and increased traffic.
Here are a few features offered by Reputation- 
Review Requester
Once your customer purchases from the website, Reputation automatically sends them a customized review request from your website, CRM, or email them with its pre-built integrations. It aggregates digital engagements and customer feedback and helps you understand how customers perceive your brand.
Review Monitoring
Easily monitor, request, and respond to customer reviews while leveraging Review Booster to skyrocket your review volume.
Reputation tracks reviews on several third-party review sites and helps brands to monitor and respond to reviews easily in real-time. It creates a custom response template and ensures that all reviews, including the negative ones, are addressed, and all issues are resolved instantly and effectively. 
Integrated Platform
The AI-enabled platform will let you respond to all public reviews from a single unified platform.
With extensive tools provided by the Reputation Experience Management (RXM) platform, you can turn every interaction into a competitive advantage and react to reviews immediately. 
This AI-enabled Review Management Tool from Embed Social will help you collect new reviews, manage existing ones, and showcase them on different websites using attractive widgets. The predefined templates will ensure you can respond effortlessly to reviews with automated customized replies.
Features offered by EmbedReviews include- 
AI Reviews Generator
The built-in reviews form helps customers effectively chalk out their experiences in a detailed manner, delivering more authenticated and informative product and business reviews. 
AI Reviews Responder
AI responses aggregator automatically generates personalized, human-like responses for reviews received, irrespective of their volume and location. 
Encapsulating All Reviews in the Widgets
Widgets are known to show reviews creatively, but EmbedReviews took it up a notch with their unique, powerful, and innovative widget feature. The AI Reviews Card summarizes the best reviews in a short, easy, and appealing format so that the viewers can view all the reviews simultaneously.
AI Integration 
The tool's API integrations with all social media platforms will let you automatically collect reviews from a single dashboard in a jiffy. You can increase your brand's online visibility and organic traffic by displaying these reviews on your website.
Being AI-powered, it will also connect your Google and Facebook Accounts; hence, you can sync your reviews across various platforms.
It is a cloud-based review management software that collects and manages reviews of multi-location brands and businesses. A unique feature of this tool is that you can compare ratings, comments, trending topics, and responses for up to 10 competitors for every location. It will also provide you with an overview of your competitors' custom categories, strengths, and weaknesses.
Here are some of the review features that LocalClarity offers- 
Unmatched Control & Visibility 
The software lets you monitor reviews from more than 30 platforms. Hence, it gives the advantage of tracking and comparing performance across various cities, regions, and individual locations. It provides unmatched visibility in a full reporting suite (dashboard, review breakdown, and wave quadrants).
Review Monitoring & Automatic Responding
This tool lets you collect, monitor and respond to reviews across all locations with real-time notifications. With reviews being retrieved from various platforms daily, it uses predefined templates to send responses automatically.
Review Marketing
Put your best reviews up front by either using the in-built templates or creating customizable widgets for your customers' reviews. The platform lets you create attractive widgets that are completely responsive on desktops, iOs and Android. 
GatherUp is an online review management platform that gives insights, empowers review marketing, and converts customers. With automated review invites, strong review reports, Google seller ratings, and on-site customizable review widgets, GatherUp ensures increased conversion rates and sales. 
Top Features Include-
Review Collection
The platform adds 1st and 3rd party reviews to your website with conversion pop-ups, including schema mark-up for an optimum impact. It increases your website's online discoverability and search ranking by collecting more and more reviews and leveraging SEO capabilities.
Turn Reviews into Social Media Content
GatherUp has a Social Sharing feature that provides approved and trending pre-built templates to convert customer reviews into likable social media posts and stories. If you don't want to use the templates, you can also share your star reviews and rating directly to Instagram, Facebook, and Google Posts from the platform. 
Turnkey Integrations 
It provides smart integration with top eCommerce platforms and over 100 online review sites, including Google, Facebook, WebMD, AVVO, etc. 
One of the highest-rated verified-customer reviews platforms, Feefo helps brands collect genuine and verified customer reviews. With powerful AI tools and exceptional customer care support, Feefo is a perfect review management software for businesses of all sizes at all locations.
Here are a few key features that Feefo offers-
Verified Review Collection
Feefo sends a customized review request to confirmed customers so that you receive only true feedback from your customers, and the feedback portfolio stays free from fakes. 
Strong Review Management
With powerful AI-enabled tools, you can respond to individual reviews using preset templates. You can also identify the customer behind each review and understand the issue they have raised, and resolve them.
Review Promotion
Feefo promotes real customer reviews and ratings across your website in real time, allowing you to capitalize on your best reviews to enhance your brand reputation and credibility. Additionally, by sharing these customer reviews across digital platforms, you can be certain of increased conversion rates and engagement.
Actionable Insights
With Feefo, it is easier to highlight, comprehend, and take action on your customer feedback. With powerful sentiment analysis technology, you can spot critical trends quickly and learn what's working and what's not for your customers. As a bonus, Feefo also offers a Net Promoter Score solution that lets you measure customer loyalty and quickly fix issues.
Weave's easy-to-use interface allows users to send review requests and collect customer feedback. It provides data-driven actionable insights, enabling you to improve your products, services, and customer experience.
Automatic Review Collection
It uses premade templates to send automatic requests to your customers immediately after their purchase. This is because the odds of them leaving a positive review immediately after they have done a transaction are higher. You can also select how soon the message should be sent after the purchase.
Review Management
Weave's Response Assistance provides end-to-end review management by letting you track and respond to every review posted across various digital channels- all from a single unified platform. The real-time notifications ensure that every review has been answered.
Message Customization
Cater to all your customers from all your locations in a single unified dashboard. Weave allows you to integrate your website with Google, social media sites like Facebook and Instagram, and several other review platforms.
Podium is one of the best customer review management tools that help businesses collect reviews, understand customer feedback, and improve customer experience.  
Here is a list of key features that Podium offers-
Review Collection
The review collection widgets make it easier for customers to leave reviews directly from your website. Its quick and easy scheduling generates detailed customer feedback and lets them upload photo and video reviews. 
Review Management
Saving a lot of time and effort, it curates unique and relatable responses to individual buyers, showing them that you care about what they have to say. It builds brand loyalty and inclination.
Unified Dashboard
"One platform- multiple uses" is the simple decryption here. The Podium dashboard will help you collect the review, notify you when one is received, automatically send replies, and manage your multi-location business and reviews from one spot.
Conclusion
With reviews empowering people to make informed data-driven decisions, Online Review Management should be essential to any business's marketing strategy. Asking 1 or 2 customers for reviews will not do the trick; instead, you need a comprehensive suite of reviews.
Use this guide to select an online review management software tool that suits your needs and collect, monitor, and manage honest customer reviews. These tools will streamline the process and help you attract new customers, multiply sales, and build your business's credibility.
Lastly, we welcome your feedback on the effectiveness of the tools mentioned above and any additional tools you may recommend for our review management software list. Please contact us for more information, clarification, or a Zceppa Product Demo. Cheers!
Signup for a free trial
Zceppa's products empower your business to win every mobile-first consumer interaction across the buying journey.